Shop all types of electric fence energisers
If you're setting up an electric fence unit then an electric fence energiser is a vital component. A fence energiser converts mains, battery, or solar power into pulses of electricity and pushes these pulses down the fence line. We provide electric fencin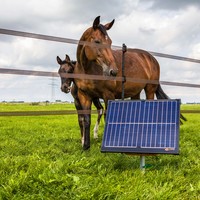 Do you need an energiser for your electric fence?
Energisers for electric fence units allow for simple operation, whilst also providing modern energy efficiency and great value for money. We stock a range of Hotline and Gallagher mains, battery, solar and multi powered fence energisers.
Why choose an electric fence energiser?
Electric fencing energisers convert power into high voltage pulses and then pushes them down the electric fence line. When touched, this pulse sends a safe but uncomfortable shock to stop animals from pushing through. This power can be sourced from mains, battery or solar and you need an energiser that reflects that choice. A little consideration when making this decision can save you time and money in the long run.
Types of energisers for electric fencing
Mains powered fence energiser
Mains powered energisers are reliable, cost effective to run and are generally more powerful than battery powered models. Browse all mains electric fence energisers.
Battery powered fence energiser
There may be fencing that cannot be connected to the mains and a battery energiser is a better choice in those situations. These energisers only need a battery and no mains. Take a look at all battery powered electric fence kits.
Solar powered fence energiser
An electric fence energiser that works on solar power is the best choice for remote areas as the battery is charged by daylight and converts it into electricity. We have a range of solar electric fence energisers available.
Multi power energiser
Undecided on how you want to power your electric fence unit? Multi power energisers can be used in every possible way. Browse our range of multi power energisers.
Still unsure on which electric fencing energiser is the best for you? Contact us for expert help and advice.