Shop all types of electric fence energisers
If you're setting up an electric fence unit then an electric fence energiser is a vital component. A fence energiser converts mains, battery, or solar power into pulses of electricity and pushes these pulses down the fence line. We provide electric fencin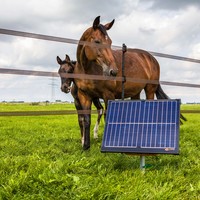 Do you need an energiser for your electric fence?
Energisers for electric fence units allow for simple operation, whilst also providing modern energy efficiency and great value for money. We stock a wide range of fencers of different brands. Discover our solutions for mains, battery, solar and multi powered fence energisers.
Why choose an electric fence energiser?
Using fencers for your farm fence or paddock is a save way to create a barrier for your animals. When touching the fence, the energiser sends a safe but uncomfortable shock to stop animals from pushing through. This power can be sourced from mains, battery or solar and you need an energiser that reflects that choice. A little consideration when making the decision for your fencer can save you time and money in the long run.
Types of energisers for electric fencing
Mains powered fence energiser
Mains powered energisers are reliable, cost effective to run and are generally more powerful than battery powered models. These models have 230 volt as their power source. Browse all mains electric fence energisers.
Battery powered fence energiser
If you have a remote fence or would like to create a mobile fence, the battery energisers are the best solution. These fencers only need a battery to power the fence. When deciding on your device make sure to check whether it is a 12 volt or 9 volt. Take a look at all battery powered electric fence kits.
Solar powered fence energiser
The solar powered energiser range combines the benefits of the battery energisers with the power of the sun. These devices have a battery which is powered through a solar panel. The solar panel makes sure you do not have to change the battery every three months.
Depending the choice of device these models could operate over 3 weeks without direct sunlight. Even daylight is enough to power these models. We have a range of solar electric fence energisers available.
Multi power energiser
Multi power energiser combine the possibilities of a mains energiser with the posibillities of battery energisers. Multi powered devices give you the flexibility of using it for mobile fencing or hang it on the wall and plug it in a socket. When choosing this device, always check the content of the box. Depending on the model, the cables for connecting the electric fence energiser are included in the box. If you are not sure on the way you would like to use the energiser these devices are the best option for you. Browse our range of multi power energisers.
As the information above shows, there are many different energisers for your electric fence. Having a clear vision on how and where you would liek to set up your electric fence will help you in the process of selecting the correct energiser. Another very important variable for selecting the right fencer is dependent on the animals you would like to keep within your fence. Using the filters on the website will help you narrowing down the options for your fence.
It is always wise to be informed on the best sollution for your electric fence. Our experts are always willing to help and make sure you get the safest and best fence for your situation.