M35 Mains Powered Electric Fence Energiser/Charger (230V)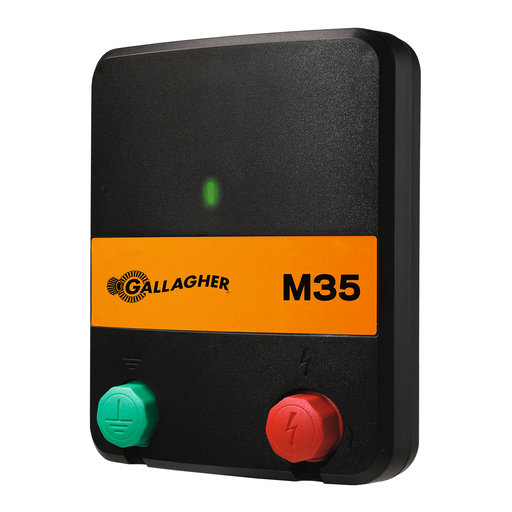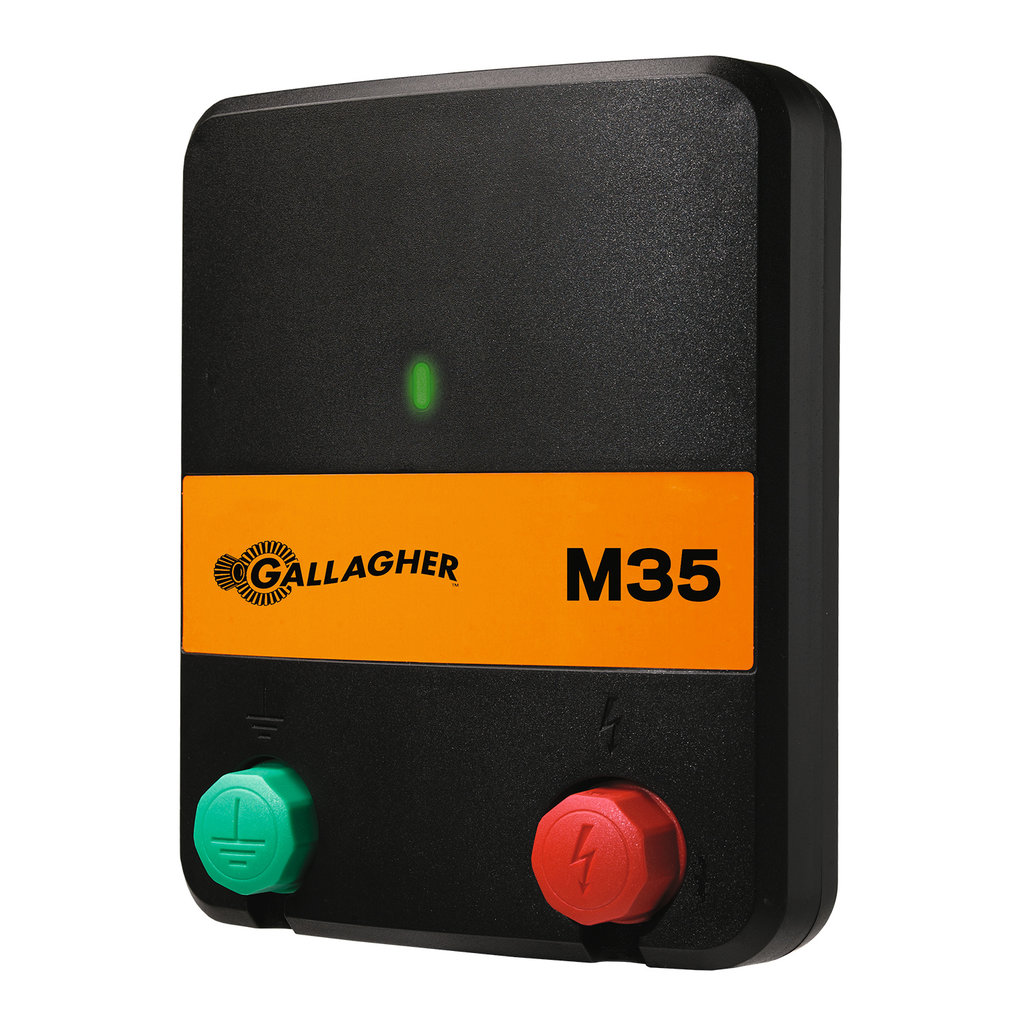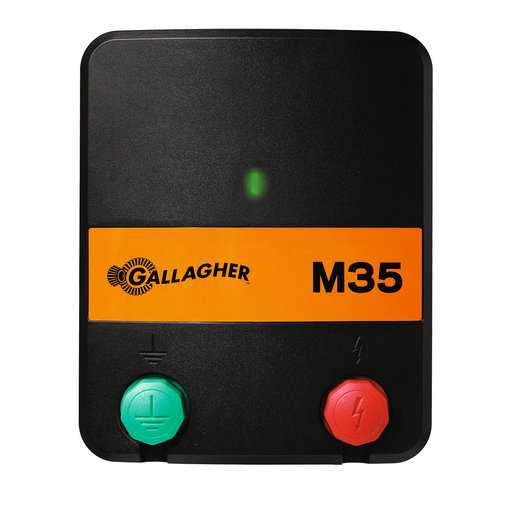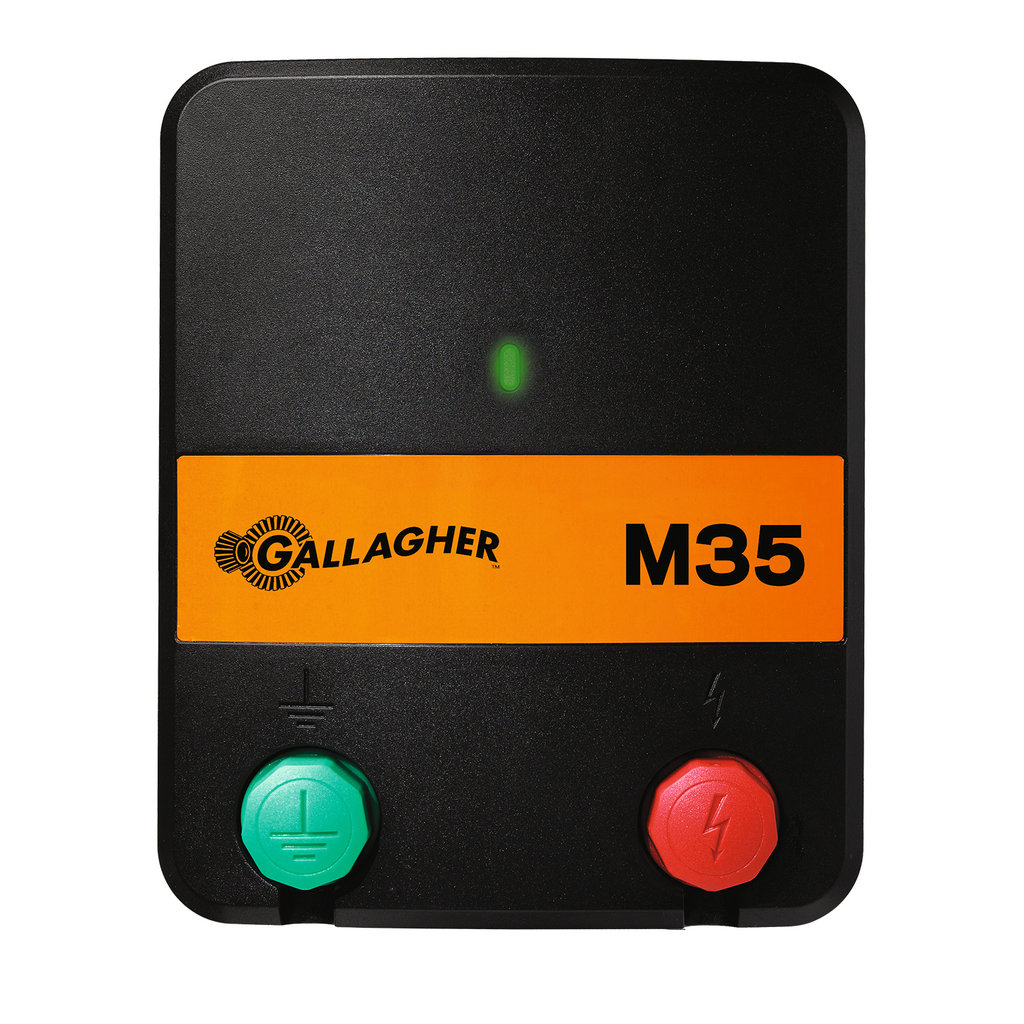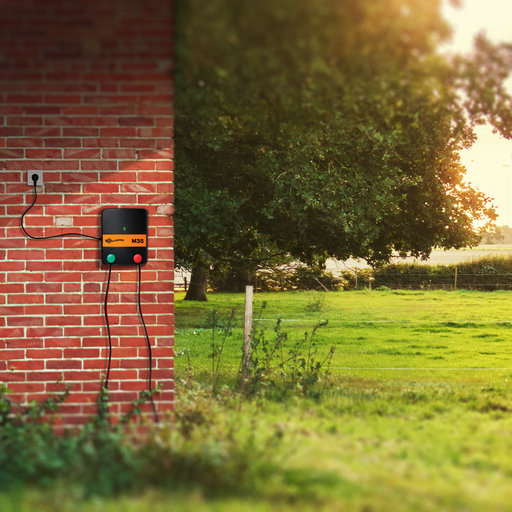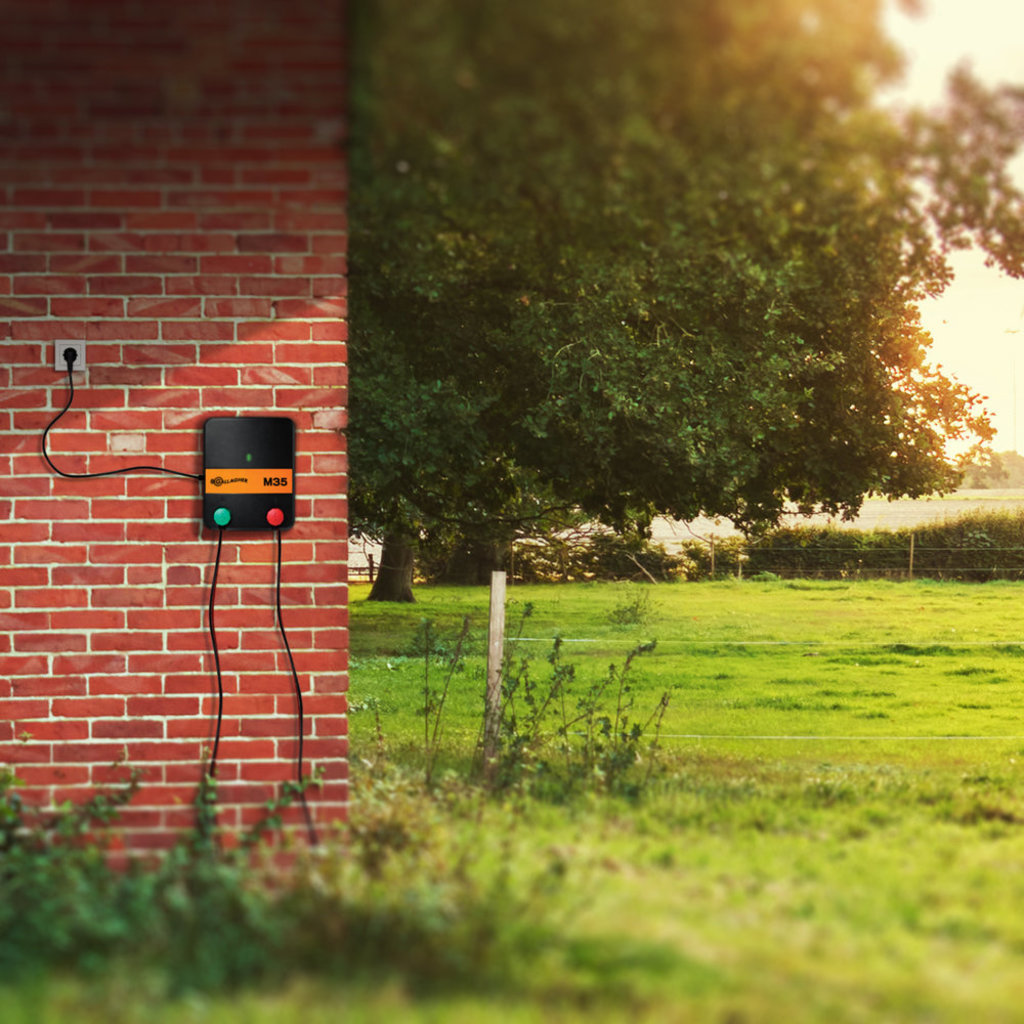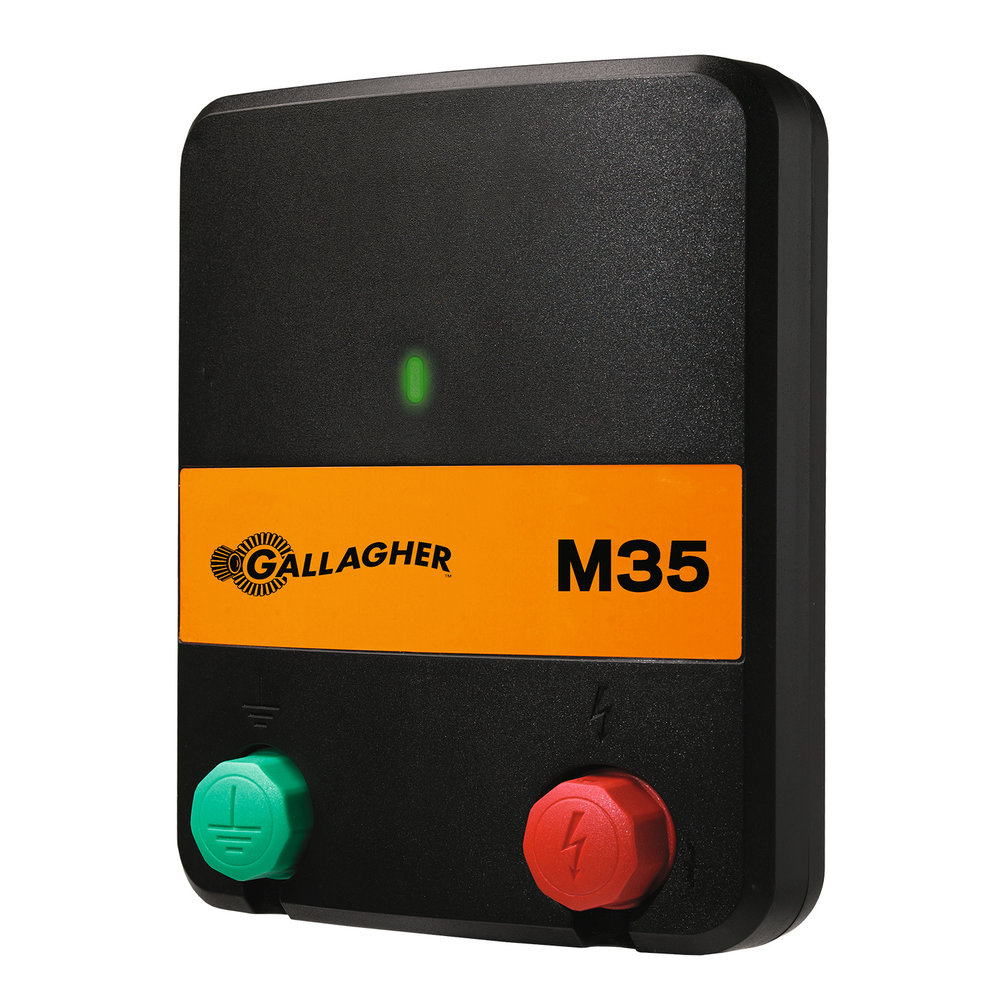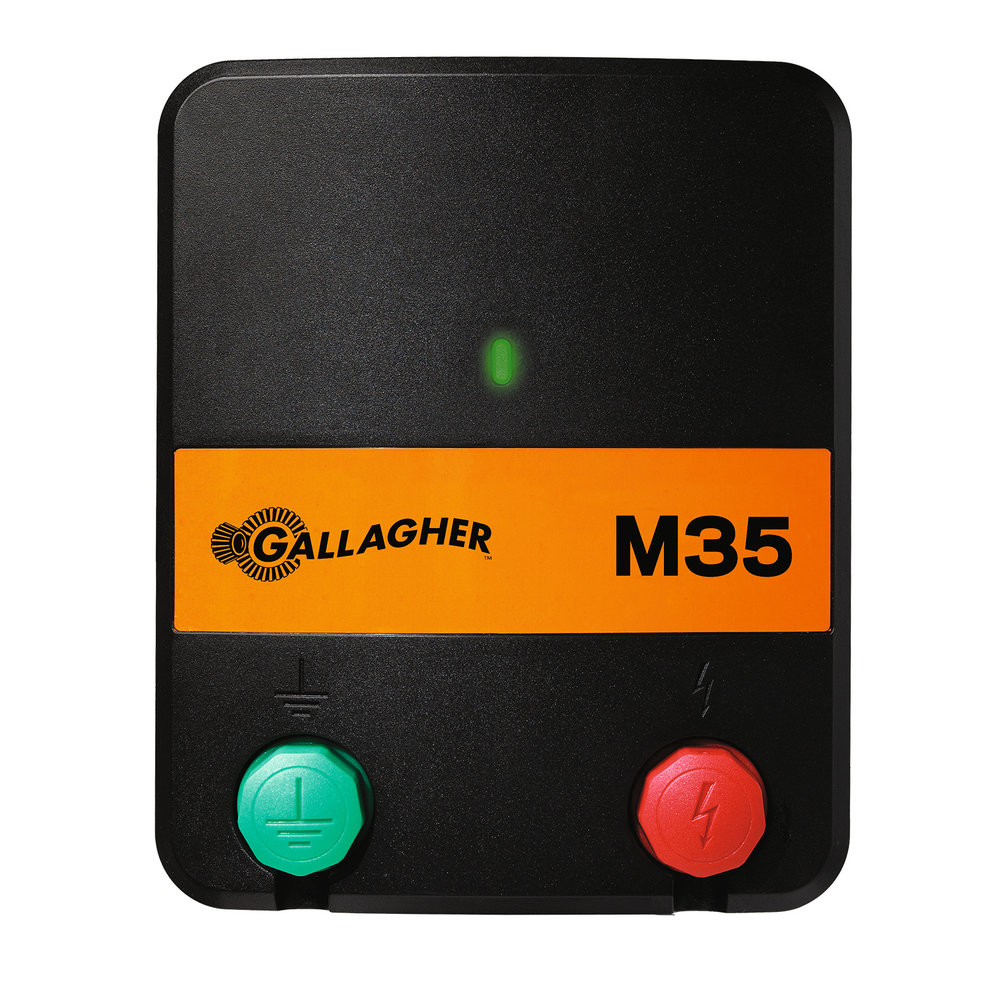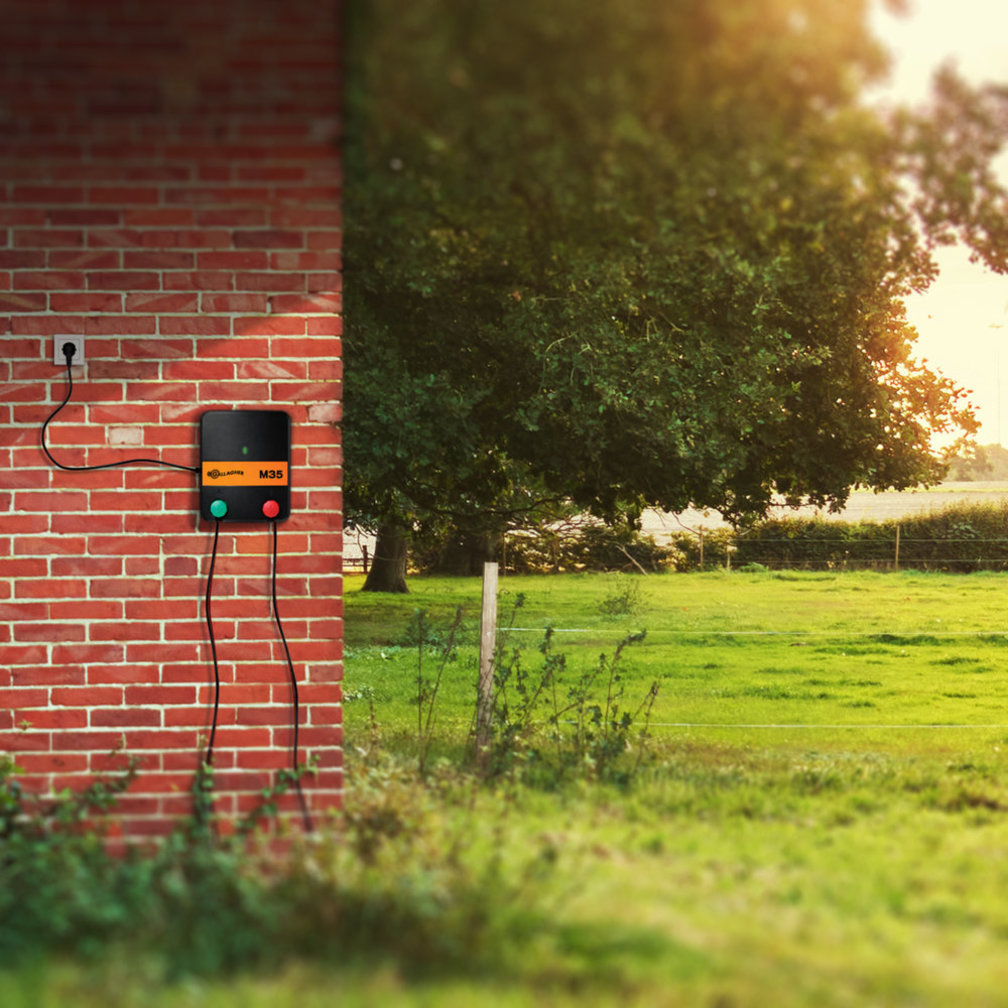 M35 Mains Powered Electric Fence Energiser/Charger (230V)
SKU: G383361
Free UK delivery from £60

Shipped from our warehouse in the UK

30 day returns
---
- Mains powered - Ideal for fences up to 2 km - Voltage 5,400 V - Charging energy 0.4 Joule - 7 year warranty! Suitable for; dogs - cats - rabbits
---
Gallagher M35 Mains Powered Electric Fence Energiser/Charger (230V)
Description
The M35 is the entry-level mains energiser of Gallagher. The device is easy to use. Mount the device to a wall, connect it to a mains power supply and your fence and you are good to go. Do not make electric fencing unnecessarily complicated with the Gallagher M35.  
Specifications:
Mains powered
Maximum output energy: 5.400 volts
Charging energy: 0.35 Joules
Maximum fence length: 2 km
Maximum area size (hectare/acre): 1/3
Easy to install power supply unit
Register for 7 years Gallagher warranty!*
With the M35 electric fence charger, you can rely on a powerful and reliable device from the Gallagher Power Plus series. The electric fence charger stores a maximum of 0.35 joules and generates a maximum voltage of 5.400 volts.
Features
With integrated lightning protection
Indicator light On/Off
Possibility to add a back-up 12V battery
Low energy consumption (0.6 W)
Recommended use
If you are looking for an energiser to power your fence for dogs, cats, pond or garden? This device got you covered!
The M35 is efficient for powering single wire fences up to 4 kilometres and multiwire fences up-to 2 kilometres.
Safety
The Gallagher M35 is designed according to the latest standards. This ensures the device is one of the safest in the market. Touching the fence will give a little shock without causing any injuries to people or animals.
Battery back up
For areas with uncertain power supply, the M35 has the feature to connect a 12V back-up. If a power failure occurs the battery will function as a back-up making sure your fence is always powered.
Gallagher quality
To ensure you with the best quality, Gallagher has a unique testing procedure.
Before a model is put into production, Gallagher puts its models through extreme tests. Firstly every model is dropped from 1 meter on a hard concrete surface. This will be done for every surface of the energiser. An energiser only passes the test if it is protected by its case and still performing as good as new.
Another test done is the temperature stress test. The energiser is put in a cabinet where the temperature drops to -80 °C and increases to +180 °C. If the model is still fully functional after these tests, it is ready for production.
To ensure the model you receive keeps up to its promises, it is tested for 24 hours before being shipped. If any failure occurs during these 24 hours, the product will be disapproved. Therefor you will always receive a fully functional device.
Gallagher's confidence in their product shows through the extra 7 year warranty they offer. Gallagher is the only fencing brand offering such a long warranty period. 
Installation
Installing your Gallagher M35 mains energiser is realy easy. Just put up the bracket, clip on the energiser and connect it to the mains socket.
Now you only have to connect the energiser to your fence and earthing and you are good to go.
To get the most out of your M35 we advise you to use one earth rod of 1 meter.
7 year warranty
The Gallagher M35 has a standard warranty of 3 years. If you register your device, Gallagher will give you an extra 4 years warranty. You can register your device at Gallagher.eu. Or we can do this for you. Make sure to subscribe to our newsletter so we are allowed to send you an e-mail on your 7 year warranty.
| | |
| --- | --- |
| Recommended number of earth stakes: | 1 x 0.5 m |
| Stored energy (J): | 0,35 |
| Output energy (J): | 0,23 |
| Multiwire Distance - ideal conditions (km): | 2 |
| Multiwire Distance - with light growth (km): | 1 |
| Multiwire Distance - recommended (km): | 0,5 |
| Grid area (Hectare / Acre): | 1/3 |
| Current consumption (V/ mA): | 0,4 |
| Output voltage (V): | 5400 |
| Alarm indicator - LED fence voltage: | No |
| Adaptive control | No |
| Delay with load: | No |
| Security with short - circuit: | No |
| Built-in lightning diverter: | Yes |
| Dimensions: (L x B x H) mm: | 145 x 75 x 170 |
| Weight (kg): | 0.8 |
| Ideal for/ keeping out: | Rabbits, Dogs, Cats and Small Predators |
Need help? Contact our experts!
Phone: 0121 281 8163
Reviews