Energisers | Solar powered
An energiser that works on solar power is the best choice for remote areas. The battery is charged by daylight and converts it into electricity. Discover our range of Gallagher and Hotline solar powered energisers below.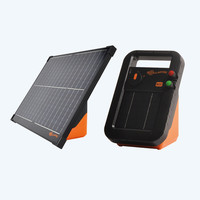 Solar-powered electric fence
The energiser is the main source of power for your electric fence. By visiting our shop online you will find a large selection of solar powered electric fencers, which are suitable for stationary use but also for mobile use. We really believe you should aim for high quality electric fencing equipment which guarantees you the best and highest possible level in terms of safety and durability. This ranges from branded name devices from Gallagher , to quality products by GIGANT and also satisfactory models from Elephant or Pulsara. There is the right 12 V solar-powered electric fence covering every price range.
Why a solar-powered electric fence?
Not only performance and functionality play a role when it comes to purchasing an electric fence , but it is also important to consider the environmental aspect. The great thing / beauty of our solar-powered electric fencers, is that the sun does the work for you, you don't have to think about when to replace the batteries, saving you money and also protecting the environment.
If you want to do more to help and protect the environment, then a solar electric fencer is particularly friendly. Take advantage of the opportunity to make your paddock or pasture escape proof with a solar powered pasture fence and bring together optimum strength and sustainability.
Not to forget solar power is a form of energy which doesn't cost you a penny, and on top of that it requires far less maintenance for battery systems. Battery life is also prolonged due to constant recharging via sunlight.
Which 12 V solar electric fencers are available?
In our shop you will find a wide selection of solar-powered electric fences which show quality in performance, function and durability. We cover all requirements. For example for small or larger fences, particularly long fences also fences with heavy grass growth Top fencing security is also guaranteed at all times with solar powered devices.
Our Gallagher devices operate for up to 3 weeks without direct sunlight, daylight is sufficient. We would like to emphasize the fact that we are the only manufacture which has a 7 year warranty baring in mind you register your device after purchase. If you prefer to operate your device with a battery then here you will find the most suitable electric fence including a battery with a 6/9 voltage.
If you wish to receive more information or if you simply have some questions, please feel free to contact us, our product experts will be more than happy to assist you.
Discover our mobile fences for horses . Browse our guide for more useful information.