Find here our electrified nettings from Hotline and Gallagher of the highest quality. Designed to protect (and protect from) rabbits, poultry, sheeps and more.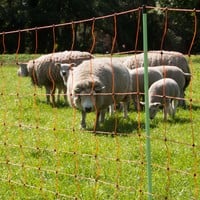 Shop all types of electric netting
Electric netting is essential for protecting your land / animals. Here at Electric Fence Online we stock a variety of electric fence netting, with products to suit whatever animals you're looking to protect. We've got all you need to maximize the safety of your stock with everything from netting for sheep to electric goat netting, as well as Gallagher poultry netting too. So, whether you're protecting (or protecting from) rabbits, poultry, sheep and more, we've got you covered with high quality electrified netting!
Why choose Electric Fence Online electrified netting?
All of our electric fence netting comes complete with posts, a repair kit, pegs and guy twines. We are proud to supply electric netting in a wide range of materials and colors to suit the needs of each individual customer.
If you're looking to replace specific aspects of your netting system, we stock a range of accessories including warning signs, polywire, and additional repair kits so that you don't need to purchase the whole system again. Browse our range of netting accessories today.
For help and advice in choosing the correct electric netting, please visit our Help Center.