We stock a wide range of fencing poles, including metal, wooden and plastic electric fence posts in various sizes. We also provide options for permanent, semi-permanent and temporary fence posts which are of high quality and reliable.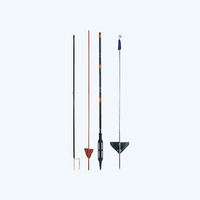 Decide on the right electric fencing stakes for you
Electric fence stakes form the fundamental structure of your electric fence system, so it's important to make an informed decision. There are 4 main types of electric fence poles:
Plastic, wooden, fibreglass and metal posts.
Mobile Fence Posts
Mobile electric fence posts are a cost-effective option that have replaced more traditional types like wood. They can save time and effort because of their built-in insulators. Additionally, fibreglass is often a popular choice for mobile or temporary fence posts. This is due to its flexible and lightweight properties, whilst also retaining affordability. Browse our full range of mobile fence posts.  
Wooden Fence Posts
Wooden electric fence posts are the most traditional type of electric fence post as many types of wood can be used. However, with this comes a danger of poor quality. At Electric Fence Online, we only stock high quality products that you can trust. Take a look at our range of wooden fence posts.
Metal Fence Posts
Metal electric fence poles are also an extremely common choice for electric fencing systems because they are strong and long-lasting, whilst remaining relatively affordable. This has established them as a solid option for electric fence posts. Browse our range of metal electric fence posts.
If you are unsure of your requirements please contact us for help and advice.