Shop all types of Electric Fence Insulators
Electric fence insulators are essential for wooden or metal fence posts. For your electric fence to be effective, the conductor must not touch the posts, this is where you need electric fencing insulators. We offer a wide range to suit your post type, fen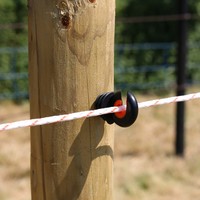 What to consider when buying electric fence insulators
At Electric Fence Online, we are proud to supply our customers with a wide range of electric fencing insulators - from electric fence wire insulators to electric fence insulators for pipes and more! Choosing the right insulators will be key to maximize the efficiency of your electric fencing system and meet the requirements of your grazing fields.
Changes of direction and the end of your fence create a need for specific insulators which provide better tension along the fence line. Here you would require end of fence line and corner insulators. However, if you need to keep stock away from fencing, or keep extra distance from hedges, electric fence offset brackets are a great solution. They are also great for keeping animals apart.
Unsure of the right insulators for your system? Speak to our experts today through our Help Center.