The £1 post (10 pcs) - Pulsara mobile fencing post 3.5ft./1.05m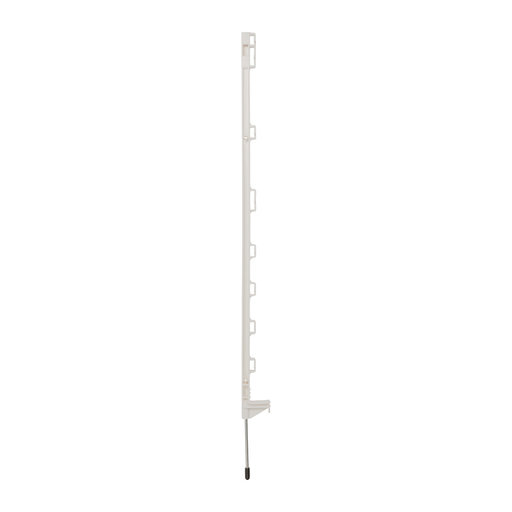 The £1 post (10 pcs) - Pulsara mobile fencing post 3.5ft./1.05m
SKU: 066551
Free UK delivery from £60

Shipped from our warehouse in the UK

30 day returns
---
Pulsara mobile fencing post 3.5 ft. / 1.05 m, white with one foothold (10 pieces).
---
Pulsara The £1 post (10 pcs) - Pulsara mobile fencing post 3.5ft./1.05m
Description
The £1 post (10 pcs) - Pulsara mobile fencing post 3.5ft./1.05m
The affordable and robust plastic stake for your cattle or sheep pasture.
This Pulsara fence post is suitable for fencing in a sheep pasture, cattle pasture or for keeping out wild boars, e.g. around your fields. It impresses with its robustness at a very good price/performance ratio.
The Pulsara plastic stake 1.05 m impresses with its 8 useful eyelets (wire holders) in different heights. This makes it suitable for all common types of strands, ropes and wide bands. The eyelets are designed in such a way that your conductor material can be inserted/fixed very easily, but it will not pop out on its own. The placement, height and number of eyelets have been chosen so that a safe electric fence can be created for many animal species.
Due to its strengthened plastic profile with braces, it can withstand even greater loads. The practical foot step with a solid steel nail ensures a secure stand.
The pasture fence post has a total length of 105 cm and a maximum fence height of 90 cm. With this plastic fence post you get a quality product with a great price-performance ratio.
Electric Fence Online practical tip:
The Pulsara plastic post is ideal for fencing in sheep, cattle, pigs or goats. It is also ideal for keeping out wild or domestic animals. For better stability of the fence, we recommend even stronger fixed fence posts, e.g. made of wood, recycled plastic or metal, for the beginning of the fence and for the corners. The distance between the plastic posts should be between 5 and 7 metres, depending on the terrain.
Ideally suited for:
Sheep and goats
Cattle
Pigs and wild boar
Dogs and cats
Chickens and other poultry
Deer and stags
Details:
8 practical eyelets/wire holders for all common strands, ropes and pasture tapes.
Medium stand height, ideal for keeping sheep or cattle
Very high stability due to bracing - very resilient
With practical single step for easy erection of the stake
UV-stable plastic
High-quality workmanship
Top price-performance ratio
Economy pack of 10
Need help? Contact our experts!
Phone: 0121 281 8163
Reviews