S100 Solar Powered Energiser/Charger + Battery (12V)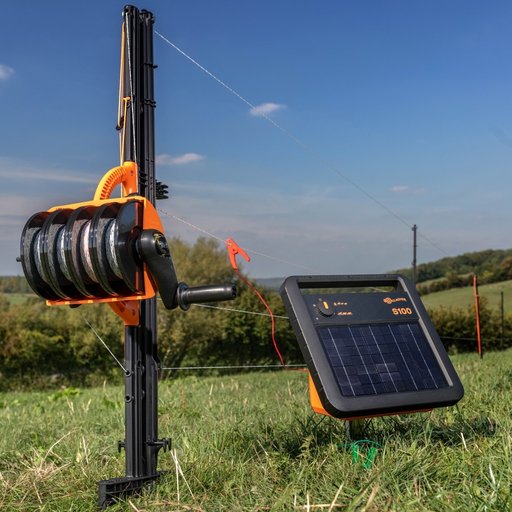 S100 Solar Powered Energiser/Charger + Battery (12V)
---
The S100 is the ultimate mobile energizer for short fences up to 30 km (singlewire,ideal conditions).
---
UK's largest online supplier
Shipped from warehouse in the UK
Expert help & advice: 0121 281 8163
Gallagher S100 Solar Powered Energiser/Charger + Battery (12V)
Description
The S100 is the ultimate mobile energiser for short fences up to 30 km (singlewire,ideal conditions). The energiser comes with a rechargeable battery and solar panel. The S100 is quick and easy to install and convenient to transport. This rugged and highly mobile device offers an excellent alternative to battery powered systems.
The power and quality of Gallagher products have been undisputed for many years. Therefore Gallagher now issue a 7-year warranty on all energisers. Valid after registration om the website: www.gallagher.eu/warranty
Top features of s100 solar powered energiser:
Fast and easy to install
Extremely powerful
Built-in lightning protection
Incl. Foot Restraint
Works for 3 weeks without sunlight
Recommended number of earth rods: 1 x 1 m
Charge Energy (J): 1
Impulse energy (J): 0.74
Singlewire distance - max. Length (km): 30
Multiwire distance – ideal condition (km): 10
Multiwire distance - with light growth (km): 5
Multiwire distance - recommended (km): 3
Area size (hectares / ares): 4/10
Power Consumption Battery (V / mA): 12/43
Our recommendation:
To connect the Gallagher S100 solar energiser with a battery, make use of the fence and earth connection lead 9V/12V.
Need help? Contact our experts!
Phone: 0121 281 8163
Reviews