BA30 9V/12V Battery Fence Energiser/Charger - Including free battery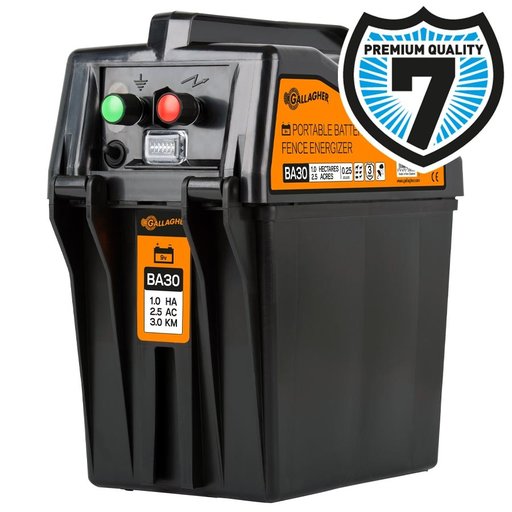 BA30 9V/12V Battery Fence Energiser/Charger - Including free battery
SKU: 356303
Free UK delivery from £60

Shipped from our warehouse in the UK

30 day returns
---
- FREE Battery (worth: £25.50) - Battery powered - Ideal for fences up to 4 km - Voltage 9,600 V - Charging energy 0.25 Joule - 7 year warranty! Suitable for; horses - cattle - sheep - goats - pigs - pets - garden - pond
---
Gallagher BA30 9V/12V Battery Fence Energiser/Charger - Including free battery
Description
Gallagher BA30 (9V/12V) energiser including free battery (worth: £25.50)
Gallagher's 9V energisers have been completely redesigned. Without exception, these are powerful battery-powered units that are easy to use, robustly designed and have the quality you would expect from Gallagher. The BA30 model has a black housing with an orange cover. This unit has an energy saving mode, so the battery lasts longer as the unit sends out delayed pulses and changes the pulse strength. The light on the energiser indicates the battery pulse. The BA30 is suitable for larger (mobile) fences. This energiser is supplied with a connection cable set for 9 volt batteries (the connection cable for 12 volt batteries is sold seperately). 
Green LED light flashes with each fence pulse
Connects to a 9V battery or 12V rechargeable battery (battery does not fit in the housing)
Easy to use: switch to turn the unit on and off
Improved connections for better conductive contact
Designed for outdoor use
High comfort due to practical carrying handle
Robust design
Simple operation
Battery-saving circuit
Incl. connection set
Incl. Free battery (worth: £25.50)
Top features of the Gallagher BA30 energiser:
Proven cutting-edge technology from Gallagher
Waterproof housing with built-in lightning protection
On/off indicator light
Battery saving circuit
Deep battery discharge protection: @12V
Area size (hectare/acre): 1/2,5
Battery power consumption (V/mA): 9/34
Connections: 9 V or 12 V
Now with 7 years Gallagher warranty!
This energiser has an in-built housing for the 9 volt battery. This offers extra protection for the battery. When using a 12 volt battery, the battery needs to be placed next to the energiser. Why choose a 12 volt battery over a 9 volt battery? Because a 12 volt battery needs to be replaced less often.
Gallagher quality
To ensure you get a quality product when you buy the BA30 energiser, Gallagher has a unique testing procedure.
Firstly, Gallagher puts its energisers through some extreme tests during their development. All energisers are dropped from a height of 1 metre. Each side of the energiser falls onto a hard concrete surface. The requirement of this test is that the device still functions and is protected by its housing.
Secondly, the model is subjected to a temperature stress test. The power supply unit should still function at -80 °C and +180 °C.
If the model passes these tests, it is ready for production.
To ensure that your new model delivers what it promises, it is tested for 24 hours before shipping. This ensures that it functions properly.
| | |
| --- | --- |
| Recommended number of earth stakes: | 1 x 0,5 m |
| Stored energy (J): | 0,2 |
| Output energy (J): | 0,15 |
| Singlewire Distance - max length (km): | - |
| Multiwire Distance - ideal conditions (km): | 2 |
| Multiwire Distance - with light growth (km): | 1,5 |
| Multiwire Distance - recommended (km): | 1 |
| Grid area (Hectare / Acre): | 1 |
| Current consumption (V/ mA): | - |
| Current consumption safemode (mA): | - |
| 9V/ 12V connection: | 9V/ 12V |
| Ideal for/ keeping out: | Horse, cattle, sheep, pigs |
Need help? Contact our experts!
Phone: 0121 281 8163
Reviews