Discover our range of Hotline and Gallagher mains, battery, solar and multi powered energisers.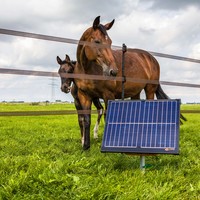 An Energiser (Fencer) is the device that converts mains, battery or solar power into pulses of electricity and pushes these pulses down the fence line.
In our shop you will find electric fencing devices for your fence which guarantee an optimal adaptation to individual requirements. Whether paddock or pasture, small area or large property - different power levels make it possible to match the equipment to a variety of fence conditions and animal species. Simple operation also speaks in favor of electric fencers, as well as contemporary energy efficiency and attractive value for money. We have a range of Hotline and Gallagher mains, battery, solar and multi powered energisers. Read more about each type of energiser below.
Mains powered energiser
Mains powered energisers are cost effective to run and are generally more powerful than battery powered models. Always give serious consideration to installing a mains powered energiser and don't dismiss the idea, just because there isn't a power supply next to the fence. The mains energiser works pretty much the same way as a battery model, only with longer earth and fence leads, which you make using lead out cable. Ht lead operates just as an insulated, efficient extension of your fence line and can similarly be many meters in length.
Battery powered energiser
There may be fencing that cannot be connected to the mains and a battery energiser is a better choice in those situations. These energisers only need a battery and no mains. Battery energisers are extremely portable and offer a range of options from 6v and 9v models with disposable batteries and 12v rechargeable models. A number of Gallagher energisers have a battery-saving option to lengthen the lifespan of the battery significantly. Some energisers also come with solar options.
Solar powered energiser
An energiser that works on solar power is the best choice for remote areas. The battery is charged by daylight and converts it into electricity. The Gallagher Solar energisers will continue to run for 3 weeks without any sunlight, do not require maintenance, are environmentally friendly and reliable.
Multi power energizer
The Gallagher Multi Power energisers (MBS range) can be used in every possible way. Would you like to use solar panels, mains or a battery? No problem with these energisers.
Please browse through the energiser models to find more specific details of each energiser, make your choice and enjoy. Contact us if you need assistance.