Combi 12V-Mains Electric Fence Energiser | Hotline HLC80 Gemini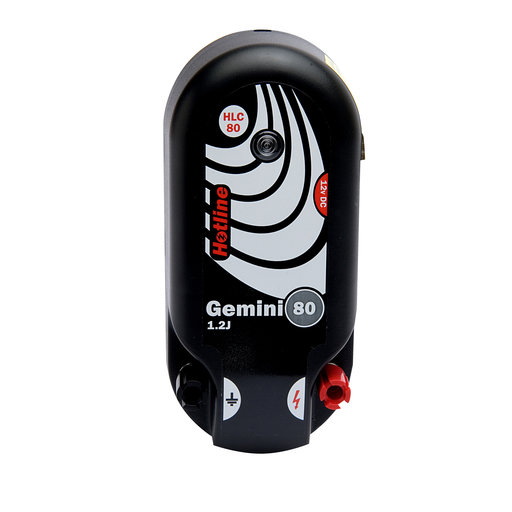 Combi 12V-Mains Electric Fence Energiser | Hotline HLC80 Gemini
SKU: 47HLC80
Free UK delivery from £60

Shipped from our warehouse in the UK

30 day returns
---
- Power supply: mains power or 12 V battery - Electric fencing suitable for: smallholdings and paddocks
---
Hotline Combi 12V-Mains Electric Fence Energiser | Hotline HLC80 Gemini
Description
One of our 'Combi' range of electric fence energizers, the Hotline HLC80 Gemini provides the best of both worlds when it comes to choice of power supply as it will run both from mains power or 12v battery. This energizer is a good General Purpose fencer designed with smallholdings and paddocks in mind.
The Gemini range of electric fence energizers ensure that you no longer need to be torn between choosing the portability of a battery powered fence energizer, or the hassle free reliability of a mains powered unit.

As the Gemini range of energizers will run from either a 12v battery or from a mains power supply, they are perfect for those wanting to make the transition from a temporary, or portable fence to a low maintenance mains system without the expense of purchasing two energizers. Ideal if you wish to 'future proof' the fence and envisage shifting from temporary to a more permanent installation. Also ideal for those needing to move small poultry systems around their land, where power requirements change.

The Gemini HLC80 is a compact electric fence energizer with a modern design that is suitable for electric fences up to 8 Kilometres (single line) and is ideal for most typical pony and horse paddock fencing applications.
The Gemini HLC 80 comes with earth, fence and battery leads and 12v mains adaptor; it can be mounted on either a wall or wooden post or hangs neatly on the Hotline ES2 earth stake. Please Note: For operation as a mains powered energiser, you will require HT/G lead out cable of the appropriate length for the connections from the energiser to the fence and earth spike.
Please refer to the section 'Installation of Mains Energisers' in our Guide to understanding modern electric fences for more information on connecting your energizer.
Features:
Indoor 110v/240v mains adaptor.
12v Input.
5 weeks battery life when used with LS85 Leisure Battery.
Compact modern design.
Hangs on wall, post or ES2 earth spike.
Low Battery Indicator.
Fitted with Radio Interference & Surge Suppression.
Lightning suppression.
Only 1.5 watts consumption.
Ideal for longer distances than the HLC40. Equestrian, small paddocks, silage face, vermin control.
Good for all wires and tapes.
Up to 8.0 km.
Hotline Gemini Electric Fence Energisers are supplied with earth, fence and battery leads and 12v mains adaptor.
Recommended Options:
To create Earth Return system the Earth Spike.
For connecting Energiser to fence use HT/G Double Insulated Cable. The energiser must be under cover in shed, garage etc when connected to mains. Measure the distance from energiser site to fence line to determine cable requirement.
Use any of the fence testers within our accessories section to check the condition of the fence.
View our full range of mains electric fence energisers and our battery powered energisers here.
Energizer Performance Figures - Gemini HLC80

Input

Consumption

Stored Joules

Output Joules

Output Volts

Output Volts - Under Heavy Load

110V/240V AC or 12 Volt DC

1.6 watts

1.2

0.8

8200v

4200v

Maximum Recommended Distance: 12km (single galv' wire line), 10 Sheep Nets, 4 Poultry Nets
| | |
| --- | --- |
| Stored energy (J): | 1.2 |
| Max. output (J): | 0.8 |
| Max Voltage: | 8.2 kV |
| Voltage underload: | 4.2 kV |
| Consum: | 125 mA |
| Max. distance: | 12 km |
| Sheep netting: | 10 |
| Poultry netting: | 3 |
Need help? Contact our experts!
Phone: 0121 281 8163
Reviews