B300 Battery Powered Electric Fence Energiser/Charger (12V)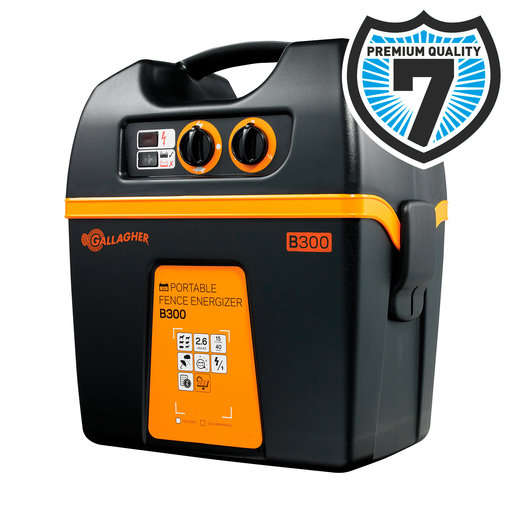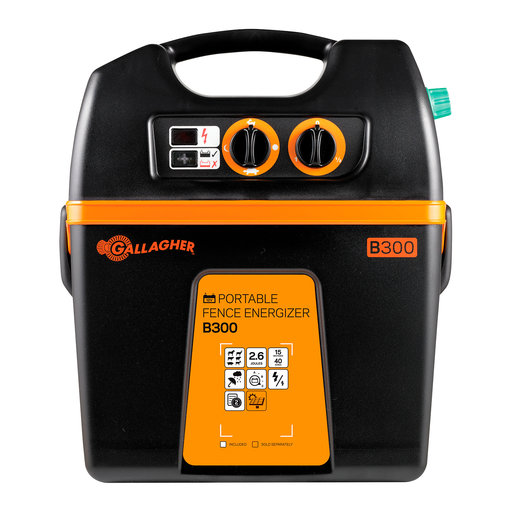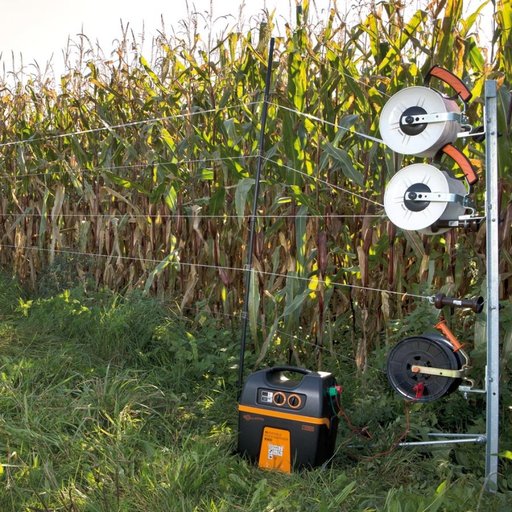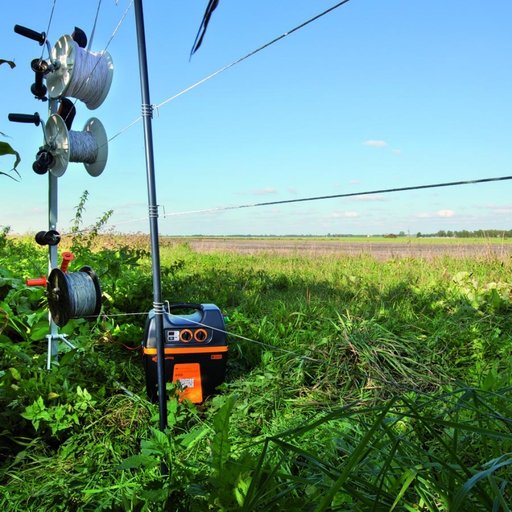 B300 Battery Powered Electric Fence Energiser/Charger (12V)
SKU: 394008
Free UK delivery from £60

Shipped from our warehouse in the UK

30 day returns
---
- Battery powered - Ideal for fences up to 30 km - Voltage 10,000 V - Charging energy 2.60 Joule - 7 year warranty! Suitable for; horse - cattle - sheep - goat - pig - deer
---
B300 Battery Powered Electric Fence Energiser/Charger (12V)
Description
Gallagher B300 (12V) energiser
The B300 energiser has a splash-proof, impact-resistant housing and indicator lights for the battery and fence. With a range of max 90 km (single wire). 4 battery-saving options and 2 power levels ensure optimum guarding security. Ideal in combination with a Gallagher solar panel. It offers flexible fence management: you can choose from half or full power modes to extend battery life, for example.
The variable animal control allows you to adjust the impulse of the energiser to the different animal species. The unit also features a carrying handle for easy transport.
The B300 is a complete 12V battery unit with enough space for the energiser battery, all in a handy carrying box. Installing the battery is easy thanks to the simple clip fastener on the box. This model also has a device for attaching a Gallagher solar module (separate solar module holder required). Do you want to protect your B300 energiser against theft? This is possible with the separately available ground anchorage.
Details Gallagher B300 energiser:
Powerful
User-friendly
Long service life
Excellent price-performance ratio
Suitable for use with solar panel
Very reliable
Day-saving mode
Night saving mode
Full power / half power
Battery deep discharge protection
Area size (hectare/acre): 15/40
Battery power consumption (V/mA): 12/200
Power consumption economy mode (mA): 71
Battery sold separately
Now with 7 years Gallagher warranty!
Gallagher quality
To ensure you with the best quality, Gallagher has a unique testing procedure.
Before a model is put into production, Gallagher puts its models through extreme tests. Firstly every model is dropped from 1 meter on a hard concrete surface. This will be done for every surface of the energiser. An energiser only passes the test if it is protected by its case and still performing as good as new.
Another test done is the temperature stress test. The energiser is put in a cabinet where the temperature drops to -80 °C and increases to +180 °C. If the model is still fully functional after these tests, it is ready for production.
To ensure the model you receive keeps up to its promises, it is tested for 24 hours before being shipped. If any failure occurs during these 24 hours, the product will be disapproved. Therefor you will always receive a fully functional device.
Gallagher's confidence in their product shows through the extra 7 year warranty they offer. Gallagher is the only fencing brand offering such a long warranty period. 
Operating modes of the B300:
Small pulse intervals for maximum power
Large pulse intervals, they save battery power
Daytime operation: when it is bright, the unit is operated with small pulse intervals; when it is dark, the unit switches to large pulse intervals (for diurnal animals).
Night operation: when it is dark, the unit is operated with small pulse intervals; when it is bright, the unit switches to large pulse intervals (for nocturnal animals).
| | |
| --- | --- |
| Recommended number of earth stakes: | 4 x 1 m |
| Stored energy (J): | 2,6 |
| Output energy (J): | 2 |
| Singlewire Distance - max length (km): | 90 |
| Multiwire Distance - ideal conditions (km): | 30 |
| Multiwire Distance - with light growth (km): | 10 |
| Multiwire Distance - recommended (km): | 8 |
| Grid area (Hectare / Acre): | 15/ 40 |
| Current consumption (V/ mA): | 12/ 200 |
| Current consumption safemode (mA): | 71 |
| 9V/ 12V connection: | 12V |
| Ideal for/ keeping out: | Horses, cattle, sheep, goats, game, pigs |
Need help? Contact our experts!
Phone: 0121 281 8163
Reviews