MBS400 Multi Powered Energiser/Charger (12V/230V)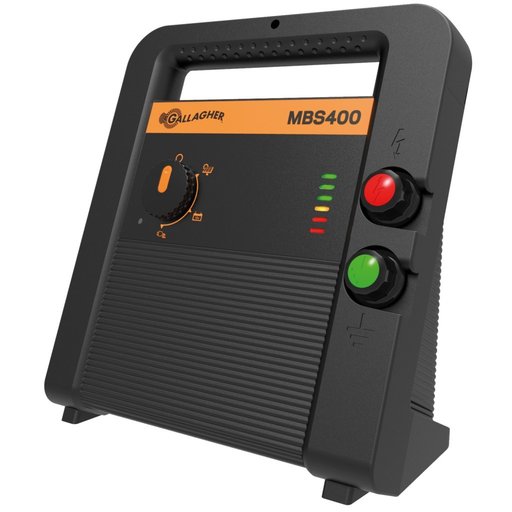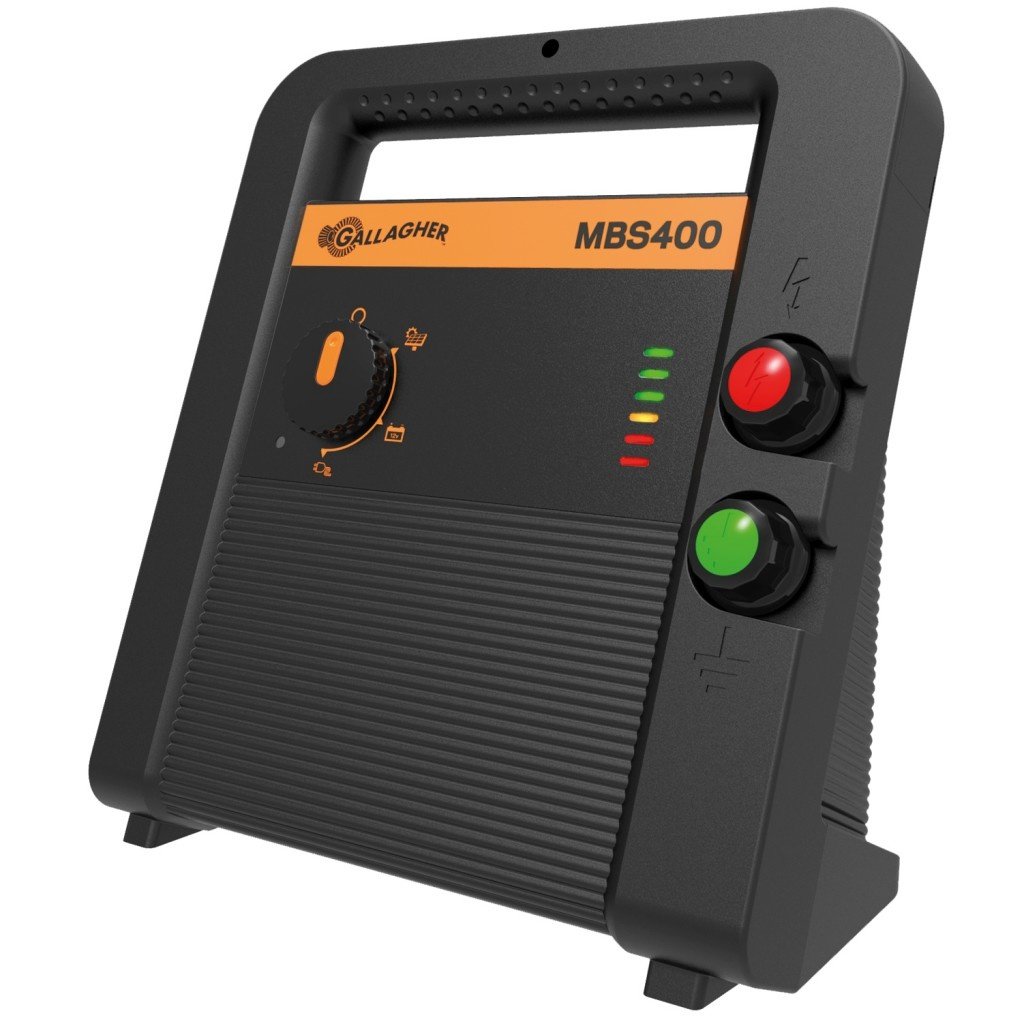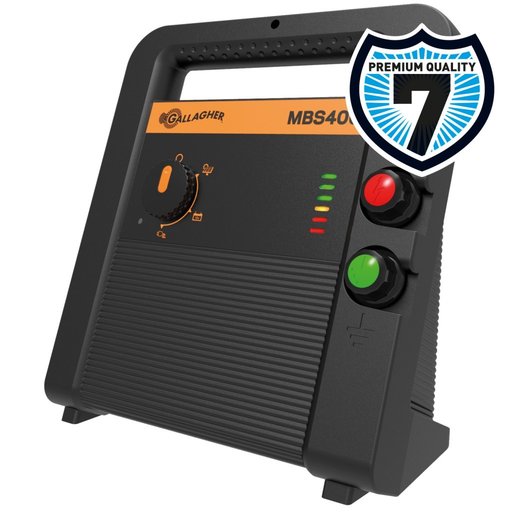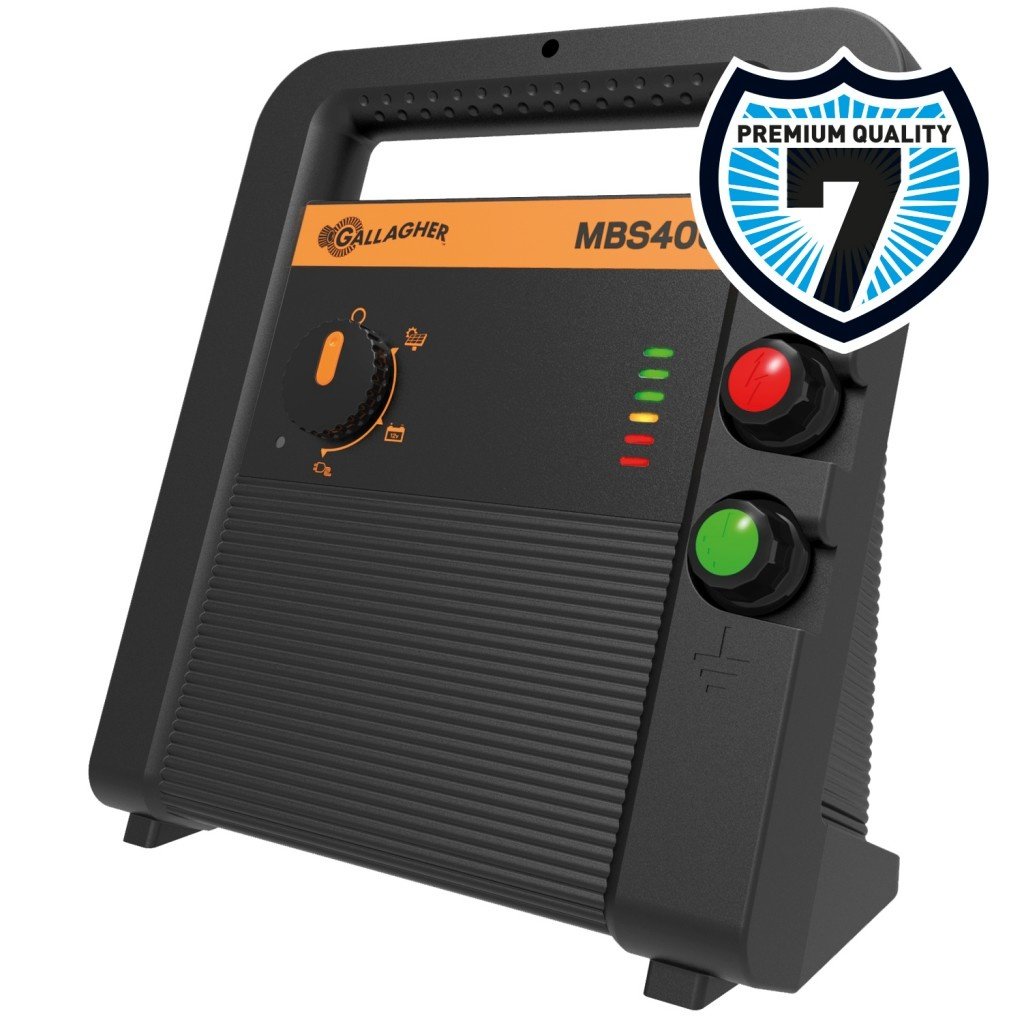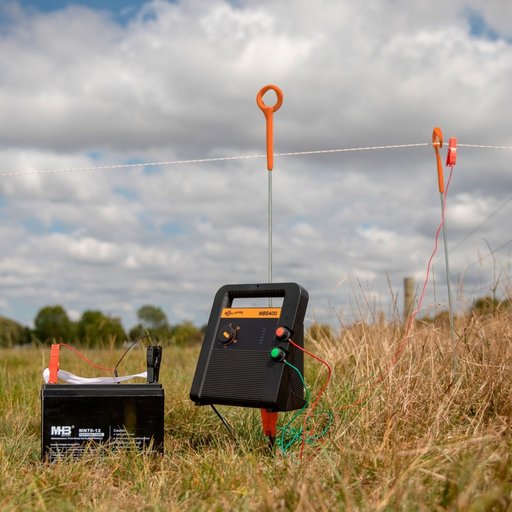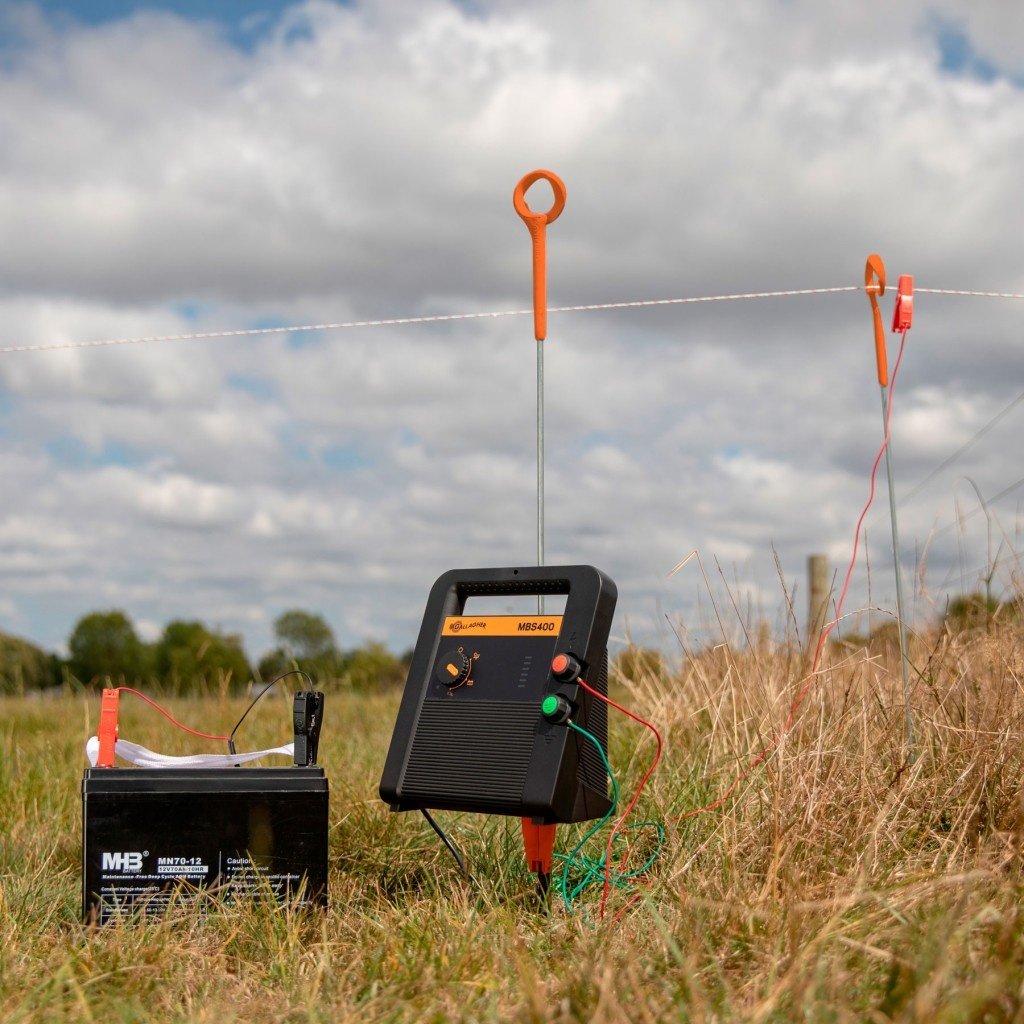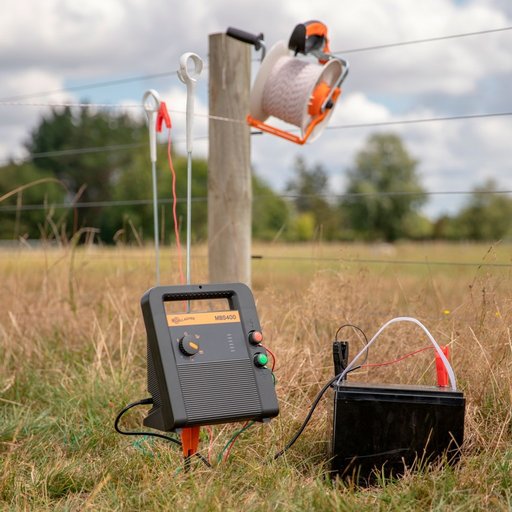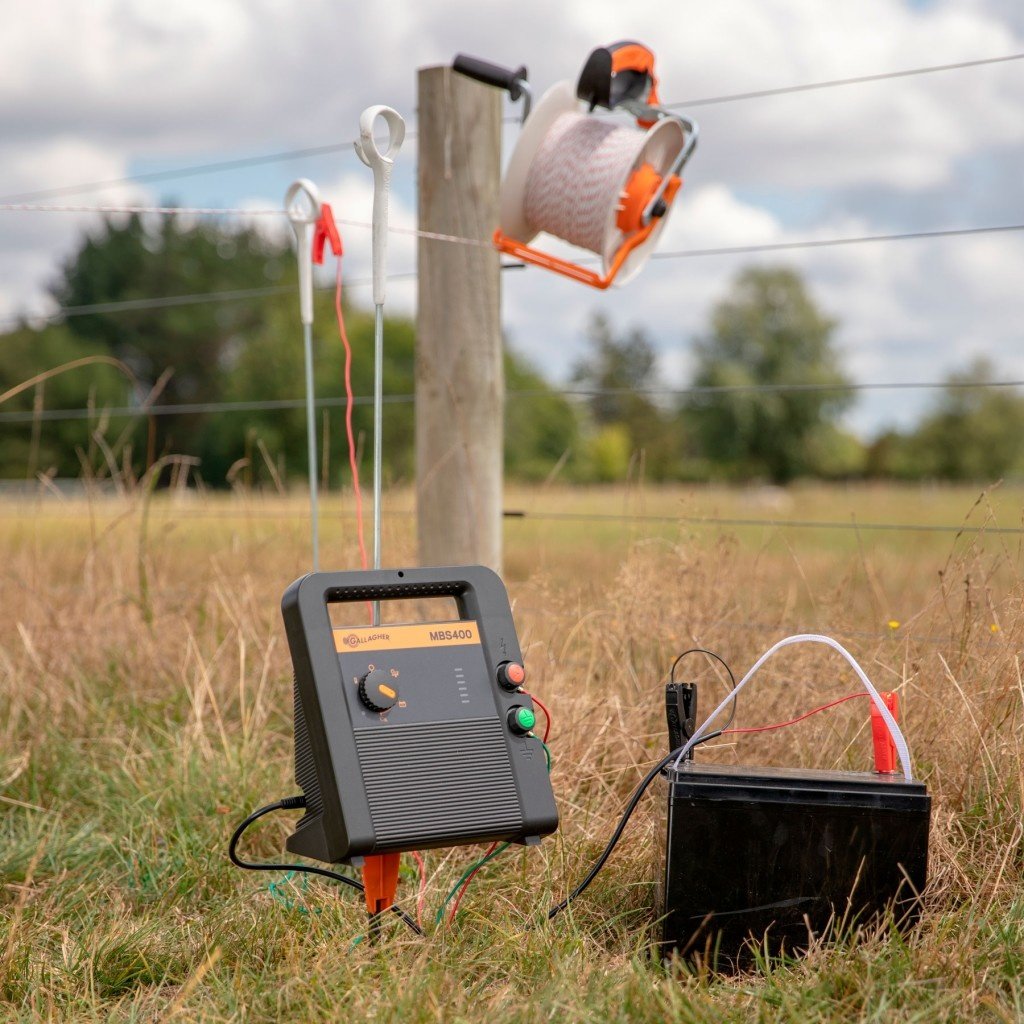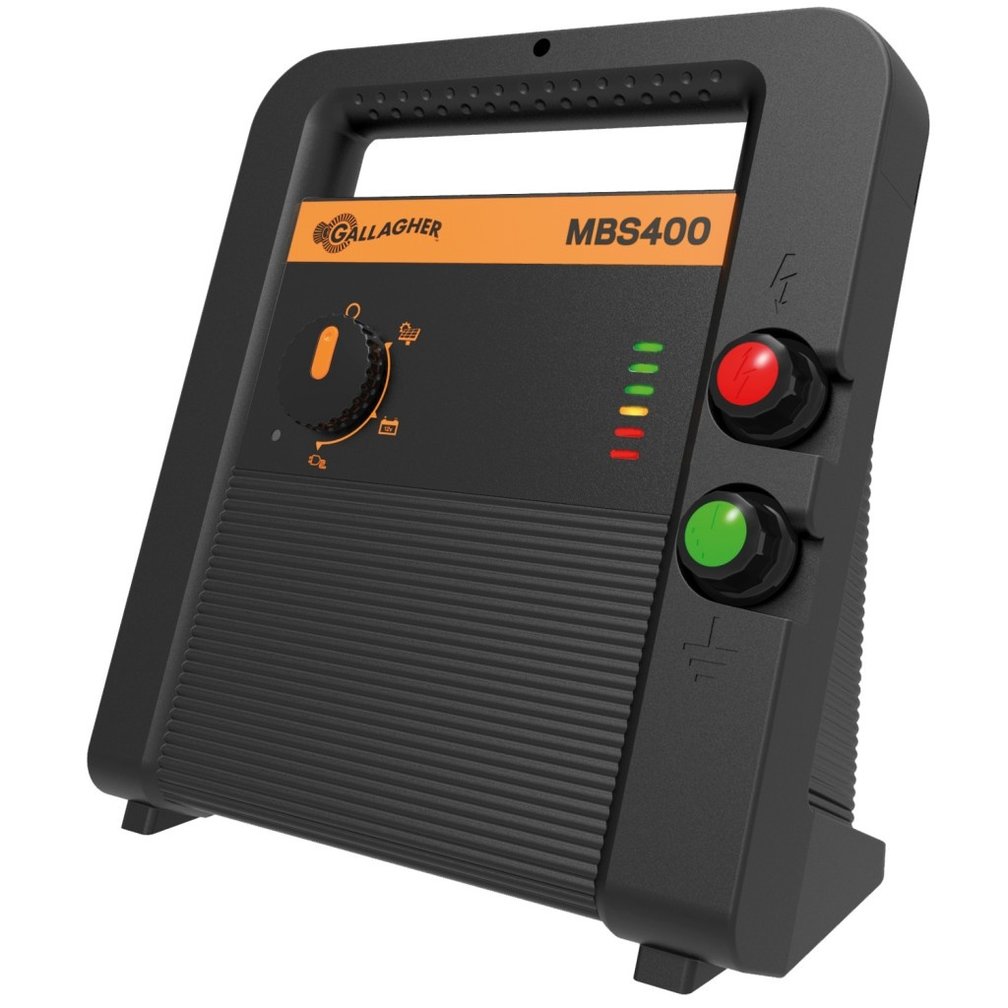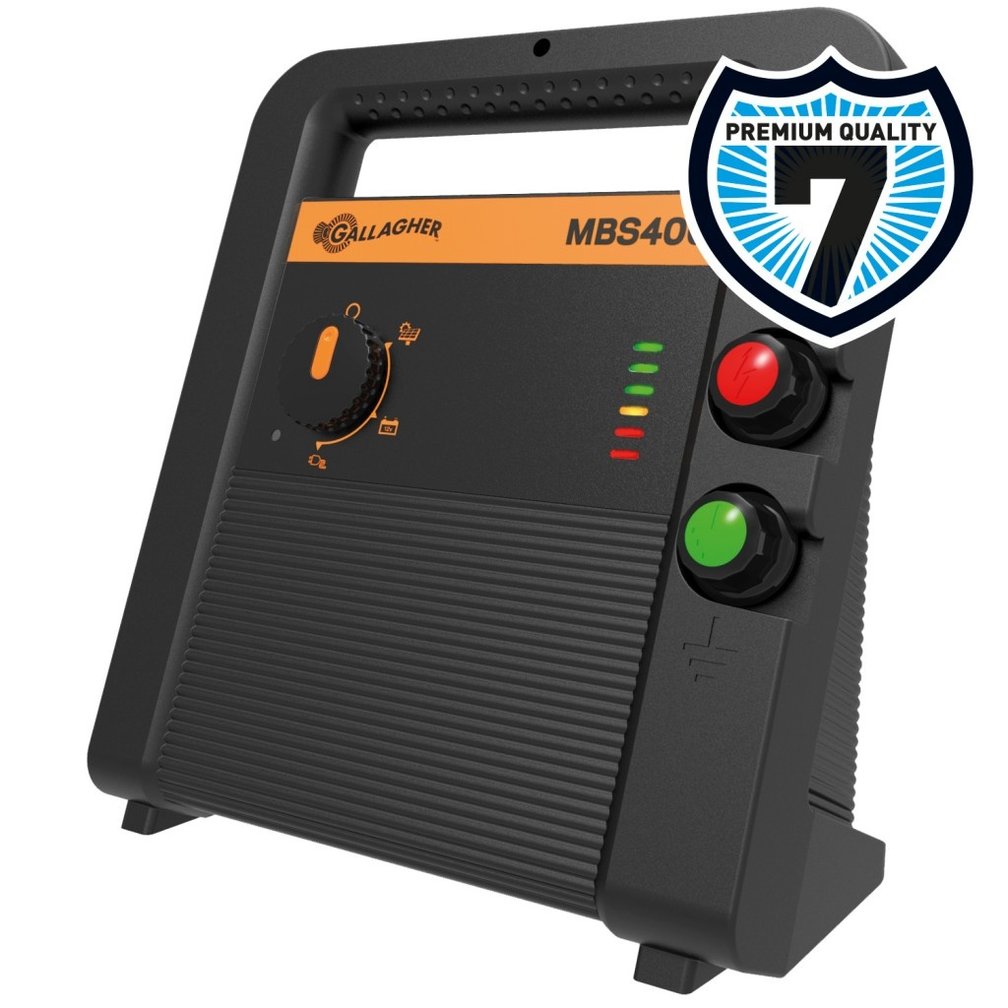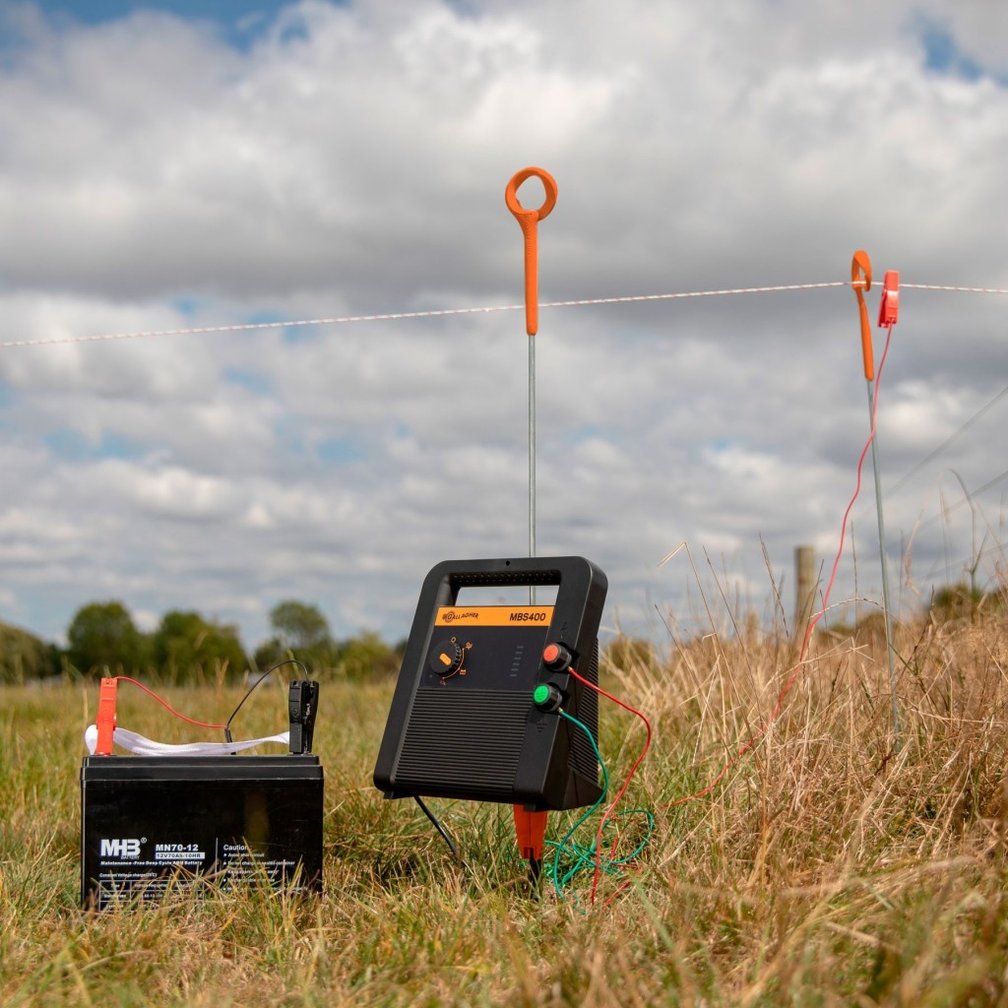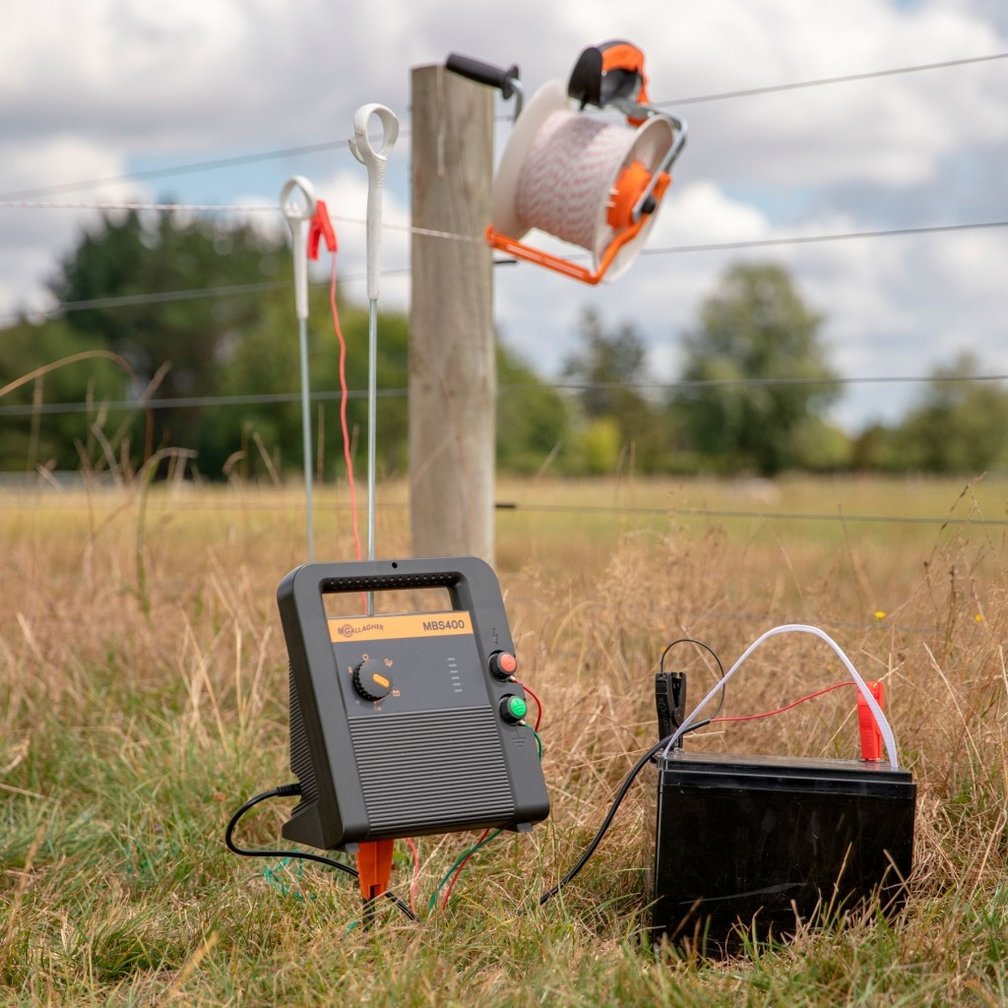 MBS400 Multi Powered Energiser/Charger (12V/230V)
SKU: 390307
Free UK delivery from £60

Shipped from our warehouse in the UK

30 day returns
---
- Mains powered - Ideal for fences up to 30 km - Voltage 9,100 V - Charging energy 4 Joule - 7 year warranty! Suitable for; horses - cattle - sheep - goats - deer - pigs
---
MBS400 Multi Powered Energiser/Charger (12V/230V)
Description
Gallagher MBS400 Multi Power energiser
The Gallagher MBS400 is a multi-power energiser that can be operated from 230V mains power, a 12V battery (sold separately) or a solar panel (sold separately). The unit is very easy to handle and transport due to its unique design. The status light (bar graph) shows you the status of the connected battery. The unit can supply fences up to 30 km long and is supplied with the required fence connection cables. You can also secure this energiser against theft very easily with a bicycle lock (passed through the practical carrying handle).
Top features of the Gallagher MBS400 Multi Power:
Intelligent battery management system: the unit adapts to the battery's state of charge. When the charge level is low, the pulse interval is lengthened. This means less power consumption for the same fence voltage.
Suspension system in the handle: various mounting options.
Plug-and-play solar kit: A 20 W and a 40 W solar kit are available for the MBS series. This specially designed kit is easy to install and theft-proof.
Solid magnetic switch: conventional switches are often susceptible to dirt and moisture. Our robust switch prevents the ingress of water and dirt.

The following 12V batteries fit into this electric fence device:
The following 12V Optima Yellowtop batteries fit into this electric fence device:
059614 - R3,7L
062096 -S5,5L
Details Gallagher MBS400 Multi Power energiser
Integrated battery power saving modes
Solar panel mode
Battery-only mode
Mains power only mode
Battery management system
Has a connection for a solar panel
Battery control display as bar graph
Battery deep discharge protection
Active power adjustment
Integrated lightning protection
On/off indicator light
Area size (hectare/acre): 16/40
Adapter power consumption (V/mA): 15/257
Now with 7 years Gallagher warranty!
Gallagher quality
To ensure you with the best quality, Gallagher has a unique testing procedure.
Before a model is put into production, Gallagher puts its models through extreme tests. Firstly every model is dropped from 1 meter on a hard concrete surface. This will be done for every surface of the energiser. An energiser only passes the test if it is protected by its case and still performing as good as new.
Another test done is the temperature stress test. The energiser is put in a cabinet where the temperature drops to -80 °C and increases to +180 °C. If the model is still fully functional after these tests, it is ready for production.
To ensure the model you receive keeps up to its promises, it is tested for 24 hours before being shipped. If any failure occurs during these 24 hours, the product will be disapproved. Therefor you will always receive a fully functional device.
Gallagher's confidence in their product shows through the extra 7 year warranty they offer. Gallagher is the only fencing brand offering such a long warranty period. 
| | |
| --- | --- |
| Output voltage (V): | 9100 |
| Stored energy (J): | 4 |
| Output energy (J): | 3 |
| Multiwire distance - ideal conditions (km): | 30 |
| Multiwire distance - light growth (km): | 19 |
| Multiwire distance - recommended (km): | 8 |
| Grid area (hectare/acre): | 16/40 |
| Current consumption power supply (W): | 3.9 |
| Current Consumption Battery (V/mA): | 195/900 |
| Battery save mode: | Yes |
| Battery LED (indicator): | Bar Graph |
| Built-in lightning diverter: | Yes |
| Auto Power conservation to prevent damage to battery: | Yes |
| Alarm indicator - LED fence voltage: | Yes |
| Night save option: | No |
| Power supply included: | Yes |
| Suitable for solarpanel (W): | 40 W |
| Recommended power supply: | 1x Optima YT S5.5L |
| Recommended number of earth stakes: | 4 x 1 |
| Dimensions (L x B x H) mm: | 245 x 130 x 290 |
| Weight (kg): | 2.4 |
| Ideal for/keeping out: | Horses, Cattle, Deer, Sheep, Pigs and Goats |
Need help? Contact our experts!
Phone: 0121 281 8163
Reviews