Hotline HLB150 HARRIER Battery Electric Fence Energiser (6/9/12V) 0.08J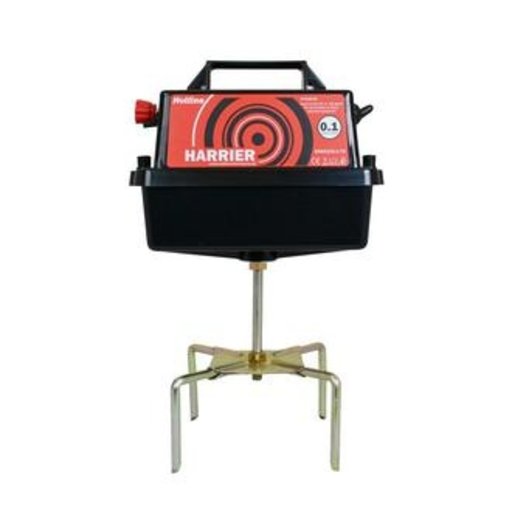 Hotline HLB150 HARRIER Battery Electric Fence Energiser (6/9/12V) 0.08J
SKU: 47HLB150
Free UK delivery from £60

Shipped from our warehouse in the UK

30 day returns
---
- Battery powered - Ideal for fences up to 1 km - Power supply: 6 V, 9 V or 12 V battery - Suitable for horses in small paddocks & strip grazing
---
Hotline HLB150 HARRIER Battery Electric Fence Energiser (6/9/12V) 0.08J
Description
The Hotline HLB150 (was P150) Harrier battery powered electric fence energiser (fencer) is a portable battery energiser with two output levels. It is ideal for day to day farm use, strip grazing and paddock fencing for horses.
The P150 Harrier is very similar to the P1 Kestrel - the only difference being the addition of a high/low switch on the P150 Harrier fencing energiser.
When animals are first introduced to the electric fence the fencing energiser is set to 'high' for about seven days. This allows the animals time to get accustomed to and to respect the fence line. After this initial period, the HLB150 Harrier energiser can be set to 'low' in order to conserve battery life.
Please refer to the section 'Installation of Battery Energisers' in our Guide to understanding modern electric fences for more information on connecting your energiser.
Main Features:
Operates from 6V, 9V or 12V batteries.
Hi/Lo switch to conserve battery.
Ultra Bright LED indicator.
Fence & Ground connectors complete with crocodile clips.
Suitable for horses in small paddocks & strip grazing.
Ideal for up to 1.0 km of fencing.
Hotline battery powered electric fence energisers are supplied with all cables necessary for a standard installation.
Energiser Performance Figures - Harrier HLB150

Input

Consumption

Stored Joules

Output Joules

Output Volts

Output Under Heavy Load

6V DC
9V DC
12V DC

Hi: 28mA

Lo: 18mA

0.10

0.06

0.08

0.04

7800V

6200V

1600V

1500V

Maximum Recommended Distance: 1km (single wire line), 0 sheep nets, 0 poultry nets
Battery life (12V 75Ah battery): >12 weeks (Hi), >13 weeks (Lo)
Battery life ( 9V 90Ah battery): >17 weeks (Hi), >24 weeks (Lo)
Battery life ( 6V 40Ah battery): >8 weeks (Hi), >13 weeks (Lo)
Need help? Contact our experts!
Phone: 0121 281 8163
Reviews