Electric Fencing for Rabbits
Protecting crops and land using electric fencing for rabbits can be done using specifically manufactured rabbit netting or by constructing a permanent fence, with 7 to 9-lines.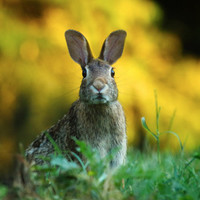 Since setting up a permanent fence with so many lines can be very time consuming, most people opt for the electrified rabbit netting for small to medium sized installations.
Electrified rabbit netting is typically supplied in 50 m lengths, with 8 electrified lines and a bottom line that is not live. The netting is normally only 50-80 cm tall and is pre-fitted with mounting posts. Since rabbits are blessed with a number of physical abilities, including jumping and digging, fitting the rabbit netting so that it is tiltled at an angle of 45-degrees away from the area of land you are protecting will improve its effectiveness. Angling the electric fence means that the rabbits ears are likely to touch the fence line before it gets close enough to dig underneath.
Where a permanent electric fence is being erected against rabbits, we need to build in both 'live' and 'earth' wires. The earth wires are connected directly to the earth spike of the electric fence system, not to the fence energiser. The purpose of these lines is to try and overcome the fact that some rabbits will actually jump through a fencing and, once off of the ground, a live electric fence wire is ineffective. To counter this, two or three of the fence lines are connected to the earthing system; should a rabbit attempt to jump through the fence, they are very likely to touch both a live and an earth line at the same time, receiving a shock in the process.