Gallagher Marten kit M50 230V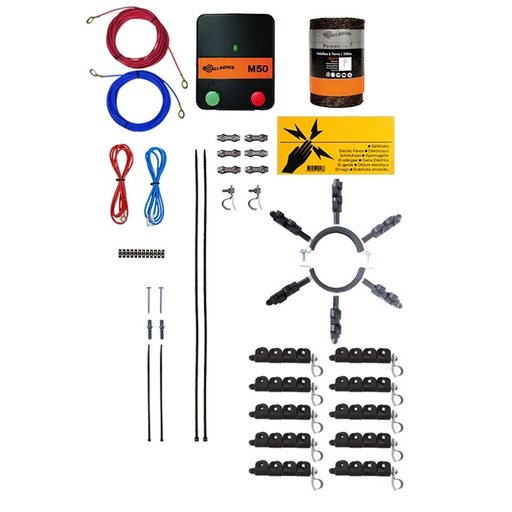 Gallagher Marten kit M50 230V
SKU: 083138
Free UK delivery from £60

Shipped from our warehouse in the UK

30 day returns
---
- The ideal electric fence set to keep martens out. - Attaches to the drainpipe - Individually extendable
---
Gallagher Marten kit M50 230V
Description
The Gallagher anti-marten kit with the M50 electric fence protects your garden from unwanted intruders. It is a pet-friendly electric fence to protect against martens on your property. With a good electric fence it will become more difficult for the marten to damage your house or other property. In addition to an electric fence, this set also includes insulators that can be attached to the drainpipe. This prevents martens from getting under the roof of your house or carport.
The M50 energiser is suitable for short fences of up to 4 km in length. This easy-to-use unit is also excellent for keeping your pets, such as rabbits, dogs and cats in the home garden, or for protection against small predators.
Further, the M50 is very easy to install with the help of the enclosed wall bracket. The unit has low power consumption and has integrated lightning protection. This set can be easily extended with further glutter clamp insulators, drainpipe insulators, Vidoflex and strand connectors.
This set contains:
1x M50 pasture fence power supply unit (230V)
1x drainpipe insulator
10x gutter clamp insulator
2x corner bracket
1x Vidoflex 6 200 m - terra
1x Warning sign universal
6x strand connector/fence connector Vidoflex
4x cable tie
1x Connection cable 5 m - red
1x Connection cable 5 m - blue
1x mounting set
1x instruction manual
Need help? Contact our experts!
Phone: 0121 281 8163
Reviews