Find here our electrified nettings from Hotline and Gallagher of the highest quality. Designed to protect (and protect from) rabbits, poultry, sheeps and more.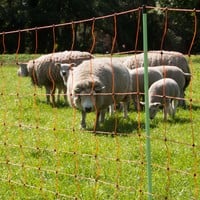 There are also a number of complete kits available in our 'Fencing Kits' section.
All nets come complete with posts, repair kit, pegs and guy twines and, in 2012, Hotline introduced their new 'Deluxe' range of poultry netting. The 'Deluxe' range comes complete with the revolutionary 'Hot-Gate' access system and heavy duty corner posts.
For help and advice in choosing the correct electric netting, please contact us at [email protected]
For some ideas on how to setup your net, please watch the following video of a complete installation of one of our Poultry netting kits... The basics are the same, whichever net you choose.