Bolt-on Electric Fence Insulator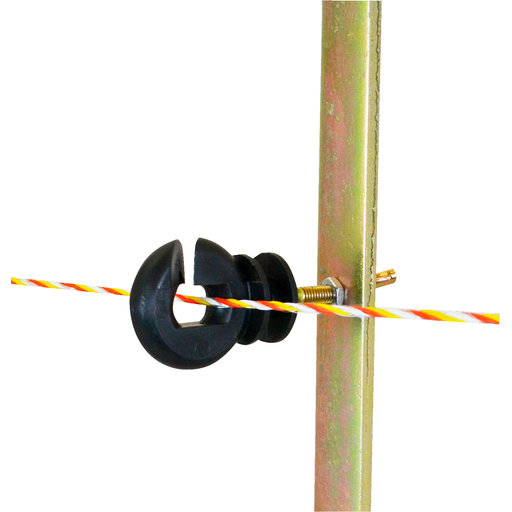 Bolt-on Electric Fence Insulator
SKU: 47P37B-20
Free UK delivery from £60

Shipped from our warehouse in the UK

30 day returns
---
These bolt-on electric fence insulators (Screw-in version pictured) are high quality, heavy duty bolt-on plastic ring insulators that are designed for use with permanent systems using galvanised stranded wire, high tensile wire and polywire. Although they
---
Hotline Bolt-on Electric Fence Insulator
Description
These bolt-on electric fence insulators (Screw-in version pictured) are high quality, heavy duty bolt-on plastic ring insulators that are designed for use with permanent systems using galvanised stranded wire, high tensile wire and polywire. Although they are not designed to do so, they can also be used with equestrian rope and tape* (up to 20mm).
Electric fencing ring insulators are strong, hard wearing and UV resistant; the insulator has a 35mm long shaft, 30mm of which is M5 thread, so you will need to drill a 6mm hole to insert the insulator into / through your metal post. The electric fence insulator can then be tightened by hand using the wing nut.
Suitable for electric fences constructed using:
Wire: Yes
High Tensile Wire: Yes
Polywire: Yes
Electro-Rope: Yes
Electro-Tape: Yes - up to 20mm tape but not ideal*
is not locked in place so consider changing orientation on alternate posts to reduce the risk of tape slipping; or put two staggered insulators on the occasional single post to "lock" the tape in.
Please review the above materials in the Wires and Tapes section.
Sold in packs of 20
Need help? Contact our experts!
Phone: 0121 281 8163
Reviews