Posted on
By Electric Fence Online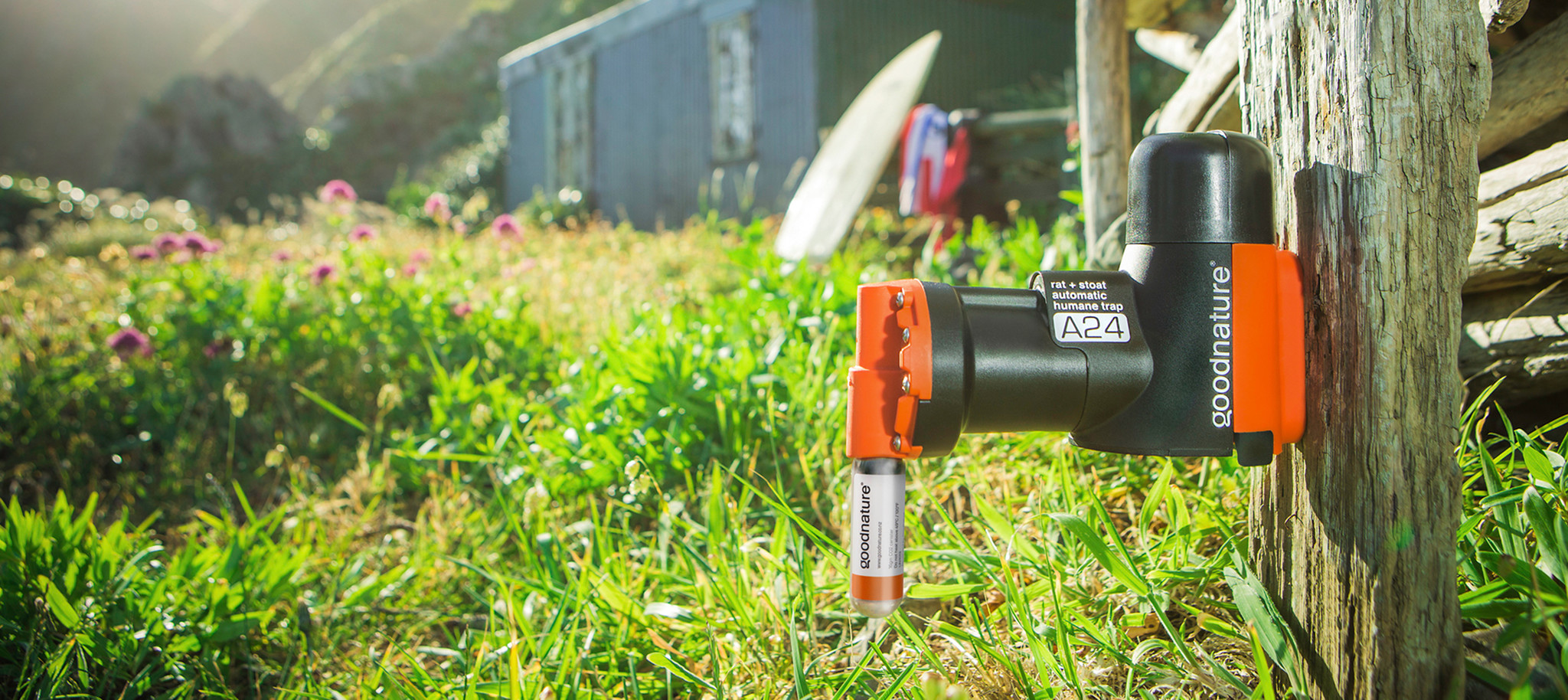 Goodnature® started in New Zealand, for good reason: to see endangered wildlife at home and around the world flourish again. This means getting on top of a bunch of pests - rats and mice for starters. We also want to go about it kindly, without using nasty toxins. That's why we develop humane traps that automatically reset and are easy and safe to use. Not only have we created a world-first, we started a revolution.
One of the best things about Goodnature® traps is that they reset automatically, making Goodnature® traps a reliable, sustainable solution for your pest problem. The design of the A24 trap was a long process, and many years of research and development was undertaken to get it where it is today. The addition of CO2 gas was one of the largest breakthroughs the team had on that journey. Our Goodnature technology combines design engineering principles and animal behaviour sciences with the best production standards to deliver traps that achieve 24 kills per gas canister.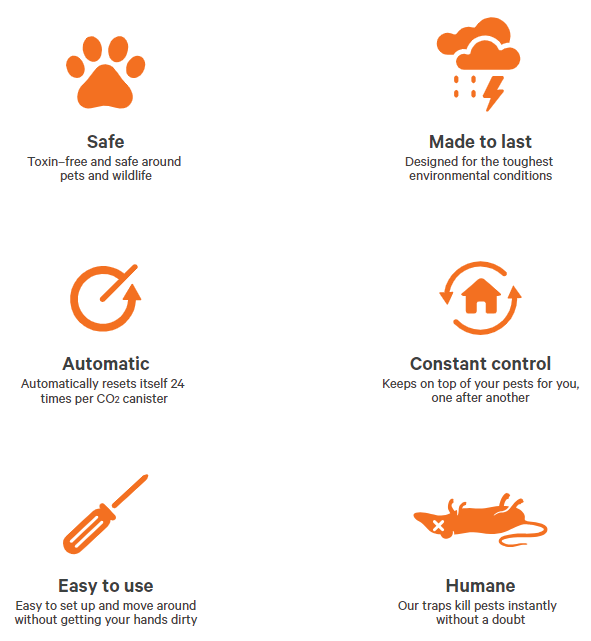 How the Goodnature® Trap Works
One of the most critical steps in the entire trapping process is providing a lure which your target animal loves the smell of. We've developed a specialised long-life lure, which when used in our Automatic Lure Pump (ALP) can be consistently dispersed over a period of six months. Because it's constantly pushing out the fresh lure, it means the trap always smells good to your target pest. Due to our non-toxis lures there is no risk of secondary poisoning of wild animals, pets and The special design ensures that the trigger can only be triggered when the pest is directly in front of it when visiting the trap. Once the trigger is activated, the striker will come down with a strong strike to the head of the pest, causing them to die immediately and humanely.
When the pressure has fully released, the striker returns to its starting position.  Once the striker has retreated to its initial position, the chamber can refill with gas, raising the pressure within the trap and preparing it to strike again. The killed pest will fall down and can then be scavenged by other animals or removed.
The supplied striker counter will allow you to monitor the traps results and will inform you of the remaining capacity of the gas canister. One gas canister allows for 24 strikes. Due to the special design of the trap, pets and non-target animals will have no access to the lure and the trap.  
Find the Best Trapping Location
Our Rodent Detector Cards help you think like a rat. To be a successful trapper, it's important that you assess (don't guess), where to position your A24 trap. The Detector Cards show you where rodents in your area feel safe to eat. That's the place you need to install your trap, even though it might be somewhere different from where you've seen or heard them.
Although you may see signs of rodents such as droppings, diggings or even see them, these are not always places where a rodent will enter a trap. Rodents will investigate food, and therefore a trap, in places where they feel safe. The cards contain our toxin-free long-life lure, which testing shows rodents find super tasty. By noticing which cards have bite marks after a few nights, you'll know where your pests are eating and exactly where to position your trap.
Identifying Bite Marks
If there are rodents feeding near where you have your Detector Cards, they'll try and eat the lure in the cards. You'll then see scratch or bite marks on the cards. Sometimes this will look like light scratches and other times the card will be chewed to pieces! 
The main difference between a rat and mouse are the way the cards are nibbled on. Mice have small teeth and jaws that leaves very fine marks, while rats leaves very rough marks. Also, rats can completely destroy the detection cards when they are gnawing. 

Video: How to Use the Goodnature® Rat Trap
Automatic Lure Dosing System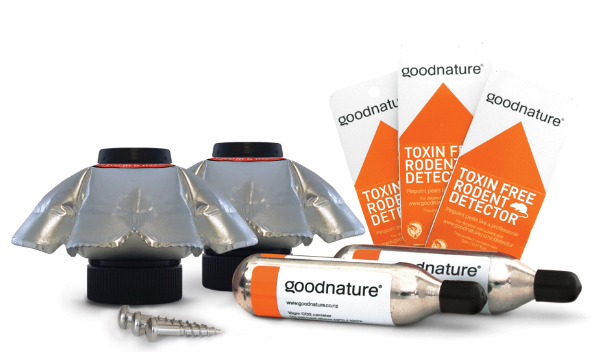 The Goodnature® Automatic Lure Pump is designed to make it easier to keep rats and mice under constant control. The lure pump is a set-and-forget system, reducing the number of times you need to check your trap to just twice a year. Once installed and activated, the lure pump refreshes your trap with chocolate lure steadily across six months. Ensuring your trap has fresh lure increases your trapping success.
Toxic-Free for Animals and Environment
he A24 trap from Goodnature® uses a completely toxic-free method to attract and execute pests. We do not make us of poisoning methods such as rodenticides, thus making sure there will be no accumulation of those poisons in nature. After the rodents have been caught by our trap, they will be safely released into the food cycle of other animals such as cats and birds.
For more information about the A24 traps and accessories it can be found in our FAQ.