Waterproof PIR Switch - Infresco Soft Start (4 & 6kW) | Stable Yard Heating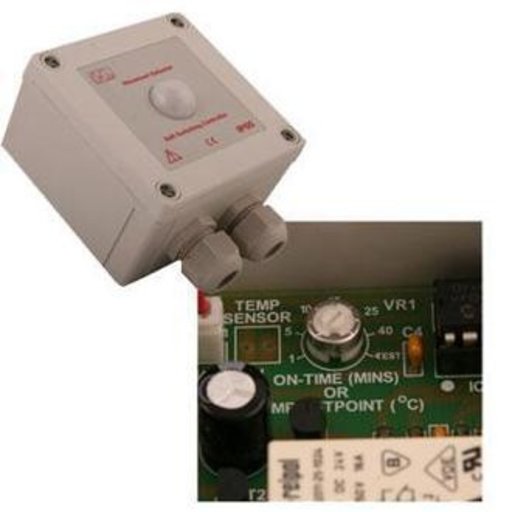 Waterproof PIR Switch - Infresco Soft Start (4 & 6kW) | Stable Yard Heating
SKU: LH_SKU229
Free UK delivery from £60

Shipped from our warehouse in the UK

30 day returns
Currently not available - Available upon request
---
Waterproof PIR Switch - Infresco Soft Start (4 & 6kW)
---
Waterproof PIR Switch - Infresco Soft Start (4 & 6kW) | Stable Yard Heating
Description
Rated at IP65 this waterproof Passive Infrared Switch will help ensure that you don't waste energy heating an area that isn't occupied.
Install wherever the controlled heat is required and the motion detector will switch on your heater for a pre-determined time, making sure that the required area is heated when needed without the necessity of going inside to flick a switch on or off.
To make this PIR detector and your outdoor heating system even more environmentally friendly, the Infresco Soft Start has an adjustable temperature sensor that monitors the air temperature and stops the heater working if the temperature is already high enough. Adjustable from 5 to 25 degrees Celsius. You can also adjust the amount of time that the heaters are switched on for (between 1 and 40 minutes).
The 'Soft Start' element of the Infresco Passive Infrared detector switch refers to the third environmentally sound feature of this switch; this is a slow start switching system that automatically starts up the heater at a lower power level and 'gradually' increases the supplied energy to optimum level approximately a second later. This may not sound like much, but it will increase the life of your lamps by up to 30%...
Important - Please Note: There are two (2) versions of the Infresco Soft Start - Passive Infrared Detector available; a 4kW version and a 6kW version. Please ensure you select the correct version i.e. the switch must not be a lower rating that the combined total kW of the heaters being connected.
Need help? Contact our experts!
Phone: 0121 281 8163
Reviews