Pest-Free PLUS - Dual Light and Ultrasonic Deterrent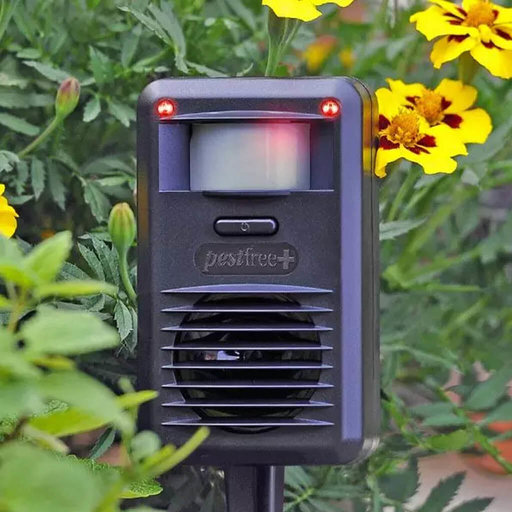 Pest-Free PLUS - Dual Light and Ultrasonic Deterrent
SKU: 000039
Free UK delivery from £60

Shipped from our warehouse in the UK

30 day returns
---
Pest-Free Plus is an enhanced version of the excellent general purpose ultrasonic pest and animal deterrent; A marriage of two products in one, this is an ultrasonic and visual deterrent that will make the pests feel even more uncomfortable in the guarded
---
Concept Research Pest Deterrents Pest-Free PLUS - Dual Light and Ultrasonic Deterrent
Description
Pest-Free Plus is an enhanced version of the excellent general purpose ultrasonic pest and animal deterrent; A marriage of two products in one, this is an ultrasonic and visual deterrent that will make the pests feel even more uncomfortable in the guarded area.
Targeting foxes, badgers, dogs, cats and various other mammals and rodents such as pine martens, rabbits and rats, the Pest Free + effectively combines the original ultrasonic deterrent with the bright eyes deterrent by incorporating two LED lights, which are triggered along with the sound. These lights give the pest the impression that they are being watched by another animal.  when triggered  designed to repel foxes, cats, dogs,
Deterrents such as this Pest Free Plus are all designed to make your garden less attractive to the pest and adding this feeling of being watched to the "irritating noise" all help to make your garden a less comfortable place to be for many animals.
The PIR sensor of the Pest-Free Plus animal deterrent detects the presence of a pest up to 10m away (at an angle up to 100-degrees) and emits a series of modulated ultrasonic alarms across a range of frequencies, while at the same time turning on the LED lights. The ultrasonic noise is an irritation to most mammals and the lights appear to animals to be similar to the watching eyes of a predator, both of which make your garden less inviting and encourages them to leave the area. Once the animal has left the detection area, the Pest-Free unit stops emitting and returns to
Once the animal has left the detection area, the Pest-Free + stops emitting light and sound and returns to standby mode. The ultrasonic alarm and lights don't harm the pests in any way and cannot be heard by most humans or other garden wildlife.
Pest Free Plus can be installed n seconds using the mounting stake provided and is powered by a standard 9V alkaline DURACELL battery for up to 2-4 months before the battery needs replacing. Alternatively, you can use the Pest-Free Plus using the optional mains adapter kit... If using battery power, Pest Free Plus emits a gentle beep to let you know when the battery needs to be replaced.
Pest Free Plus is designed to operate at temperatures between -30°C to +60°C.
Main Features:
Combined visual and audible pest deterrent.
Effective against various species - Foxes, Badgers, Cats, Dogs, Pine Martens, Rabbits and other Rodents.
Protects an area up to 88m²
Inaudible to humans and other wildlife
Powered by 1 x 9V Duracell battery (not included), or optional mains adaptor (30% louder using mains).
Made in Great Britain
2 Years manufacturers warranty
Please note that this unit is a 'general' pest deterrent. We also supply more specific deterrents, such as the Fox-Watch fox deterrent, which will not affect cats for example. The Pest-Free Plus will start protecting your garden from day one, but it may take several weeks for all pest animals to 'learn' to stay away... see below:
Some animals may take up to three months to learn to associate the irritating deterrent with the area and move away, therefore the manufacturer operates a 90-day money-back guarantee. (Goods must be returned complete, in good working order, and in their original packaging).
Need help? Contact our experts!
Phone: 0121 281 8163
Reviews