Electric Fence Insulators
Find here our Hotline and Gallagher electric fencing insulators for a wide range of electric fence applications and post types.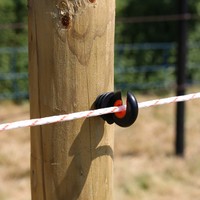 For your electric fence to be effective, the fence wires must not touch the fence posts, unless they are plastic. For wooden or metal posts, you need to use electric fence insulators. The type of insulator depends on the fence material, the type of post and also if it is the end of the fence line, a corner or a standard type. To make life easier, you can use our quick fencing insulator selectors.