Posted on
By Electric Fence Online

Sun and its heat can affect the security of your electric fencing immensely.
We are having long dry spells for quite a long period already. When the weather is dry, the soil is much less damp and causes the earthing to work less well. As there is less grass in the pasture during these periods, grazers are much more likely to check the neighbours to see if the grass is greener on the other side. Fencing that works properly is particularly important in these dry times.

One of the most important components of proper electric fencing is earthing. Earthing of an electric fence ensures that when the wire is touched, the current is taken back via the soil to the energiser. It closes the loop as it were. In this blog we give some tips on how to impove your earthing during dry periods.

How can I improve the earthing of my electric fencing?
If your earthing doesn't work properly, there are several things you can do.
Increasing the number of earth rods to your earthing system until your earthing does have the correct voltage. Do the earthing check below to discover if you need more earth rods.
Use Bentonite earthing mix in combination with your earth rods. Bentonite earthing mix produces better conductivity and consequently improved earthing. You can add the bentonite to the soil where your earth rods are positioned.
Check your earthing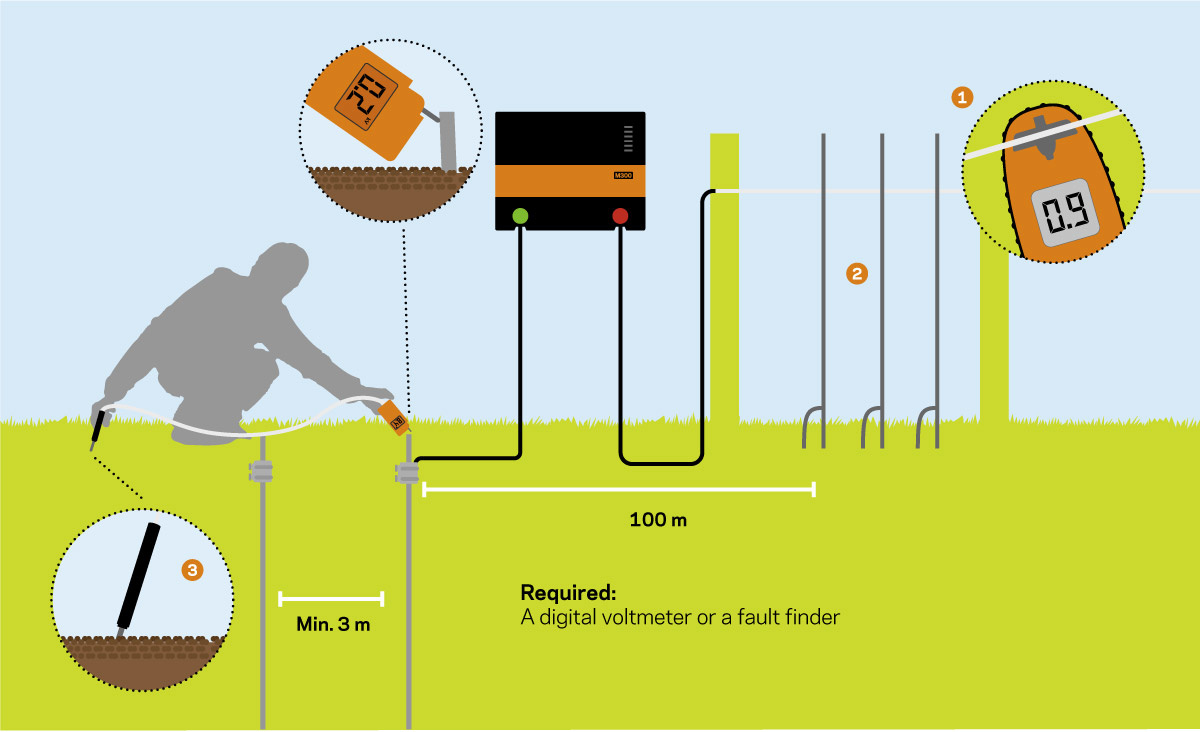 Step 1
To test your earth spike installation, firstly short out the live fence line to ground with a metal stake. Place an iron post to your fence at approximately 100m distance from your earthing. Make sure before you proceed you have less than 1000V on your fence. If this isn't the case yet, place another post to your fence (near the other iron post). And check the voltage again. Please continue doing this until you have 1000V or less on your fence.

Step 2
Measure the voltage on the earthing with a digital volt meter or a fault finder by placing this on the earth stake. Discover our Gallagher and Hotline testers here.

Do you measure less than 300 Volt?
The earthing on your energiser is fine. Take the iron posts of your fence.

Do you measure more than 300 Volt?
Your fencing isn't working properly if you measure more than 300 Volt. Please install more earth rods and check the voltage again. Continue doing this until you have less than 300 Voltage on your earth stake.
Do the Gallagher Check
The earthing check is part of the Gallagher Check. The Gallagher Check helps you to extend your electric fence's life - by regularly inspecting the fence, and doing a bit of maintenance when necessary. Watch the check below. 
Our whole range of earthing products can be found here. If you need any advice on how to improve your earthing system contact us at [email protected]