Posted on
By Electric Fence Online

The best way to manage your land and protect your assets
Electric Fencing: The best way to manage your land and protect your assets
Fencing off an area of land you own – however big or small – never used to be an easy job. But it is now. Electric fences make installing a perimeter around even the largest field quick and simple.
Electic fencing is easily one of the best ways to manage your land and protect your assets. It's a fast, easy and cost-effective way to fence off areas of all shapes and sizes.
It offers lots of benefits, to everyone from farmers and land managers to homeowners and groundskeepers. And we have a huge range of stock to help you get those benefits at your home, on your farm or around your land.
The benefits of electric fencing
Electric fencing is now seen as the fencing option of choice because it offers a huge range of benefits without the time, effort and cost associated with other types of fences.
It provides security and peace of mind year-round for farmers with valuable livestock out in the field, and it offers an extra layer of protection for those wanting to safeguard their investment in their land.
Some of the main benefits of electric fencing are:
• Safely contain livestock
Electric fencing is the perfect option for any farmer wanting to safely contain their livestock within defined perimeters. It keeps cattle within their grazing areas, horses within their paddocks and all other farm animals within their pens.
The low current safely prevents any animal from straying beyond the boundaries of your land and getting lost, hurt or stolen. But it also prevents wild animals from entering too. This is especially important where your livestock might be subject to attack from predators.
For example, electric fencing is one of the best ways to ensure your poultry is safe from foxes. It also helps to keep badgers carrying bovine TB from infecting your herd.
• Protect land of all shapes and sizes
For those with smaller land holdings, including homeowners, electric fencing is a superb way to protect that land from unwanted attention. If you've spent a lot of time and effort perfecting your garden, bowling green or golf club, you want to ensure that land stays pristine.
Similarly, if you've invested time, effort and money into growing vegetables, planting crops or nurturing fish in a pond, you want to protect that investment.
Electric fencing gives you the chance to erect a secure border around your land, and it's so flexible it can create a perimeter around any area. It lets you protect gardens, vegetable plots and ponds from being disturbed by pests or pets, keeping wild animals that might eat plants and fish away from your land.
• Maximise grass productivity
Farmers with beef or dairy herds also benefit greatly from mobile electric fencing because it allows them to maximise grass productivity on their farm.
By practicing rotational grazing, using electric fencing to re-size paddocks, move field boundaries or sub-divide foraging areas, farmers can increase grass production across their farm, reducing their reliance on other feed and maximising overall yields.
That's all possible because electric fences can be quickly and easily moved anywhere on the farm. 
Why choose electric fencing?
 One of the main reasons to choose electric fencing is because of this flexibility and mobility.
• They're quick and easy to install
• Posts don't need heavy machinery to securely ground them
• They can be easily transported to remote areas
• Fencing can be set up in any shape or size
• They offer greater lifetime value than traditional fencing
For example, new electric fence posts from Gallagher weigh just 1kg! They're made of a PVC protected polyethylene exterior around a fibreglass core, making them fully insulated, and they're as securely grounded as wooden posts.
Better still, they're flexible if knocked, returning to an upright position. This greatly minimises maintenance when compared with traditional posts. Should any damage occur, and the fence fail, you'll get notified immediately via your smartphone. It means farmers, tenants and even security companies can all respond quickly to fix any potential problems.
As well as being easy to move, they're height-adjustable too, so they can be reused for a wide range of purposes, including different livestock types.
Because of this, they have a huge lifetime value, spanning over 25 years. And that's why electric fencing is typically 25-30% cheaper to run than an equivalent traditional one.
Power is not a problem  
One of the perceived downsides of electric fencing is the power they need to function. They need to be hooked up to an electrical supply and cost a lot to run.
This simply isn't the case.
With high capacity energisers - of which we stock a huge range – you can run an electric fence for just £30 a year. The initial investment may be more than buying a small energiser for your fence, but that's a false economy, as they cost more in the long run.
And you don't even need a power source any more. We're the market leaders in solar energisers, which give you all the power you need, all year round, without the need for external input.
You can position these lightweight but highly robust solar energisers anywhere on your property, and they can power fences are long as 30km. They work on daylight too, rather than direct sunlight, so will be reliable through all weathers – guaranteeing you power all year.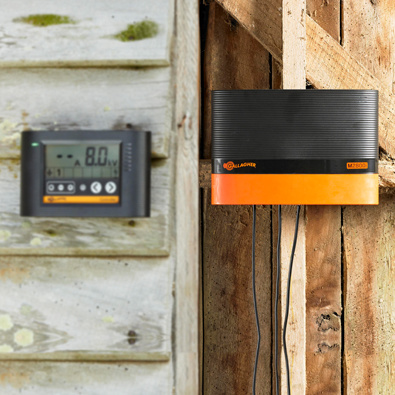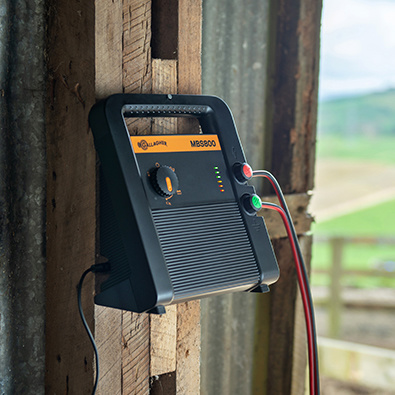 Getting everything you need for your own electric fence
It's easy to get started with electric fencing. We have an extensive range of all the energisers, posts, conductors and netting you'll need. We've got everything from starter kits for specific uses to a wide range of accessories.
And the best thing about electric fencing is that you can mix and match.
Because we stock everything from premium Gallagher products to the popular Hotline range, you can choose the right equipment for your requirements. You might want a more powerful, state-of-the-art energiser, but just need some basic electric fence posts. All you have to do is to choose the different pieces of kit you need, and add to your basket.
We also have expert advice on hand to help you make sure you've got everything you need to build the perfect electric fence for your land.
Get started with electric fencing here.