Electric fencing conductors | wire, tape, rope
View our range of electric fencing conductors. Gallagher and Hotline wire, tape, rope, high tensile and more!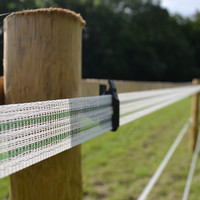 Choosing between electric fencing wires, rope and tapes means considering the type of animal you wish to contain (or keep out), the length of the fence line(s) and whether or not the fence will be a permanent fixture, or a temporary erection. If in doubt, please consult the reference tables at the bottom of this page or contact us for advice at info@inavata.co.uk.