Electric Fencing for Pigs
Electric fencing for pigs and piglets is a relatively straightforward affair, especially since pigs have very little hair on their bodies and have sensitive snouts.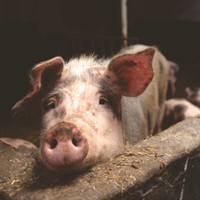 Pigs are intelligent animals, so they soon learn to stay away from an electric fence. However, it is widely understood that pigs generally bolt forward when startled, so you should always use strong galvanised wire, not polywires or fence tapes. If weaker fencing materials are used, there is a risk that an animal could become entangled in a broken, but still live, electric fence.
Most electric fences for pigs use only two lines, one 15-25 cm from the ground and another 40-60 cm high. The lower line is designed to come into contact with the pig's snout, especially if they are 'snuffling' around near the fence, while the other would come into contact with the pig's body should it brush against it. Obviously, you should adapt the fence line heights depending on the type of pig(s) that you have or if you have piglets.
Contact us at [email protected] for help and advice about electric fencing for pigs and piglets.