Do you want to discouraging your cat from trying to escape the garden? Or would you like to protect your vegetable garden and rose beds, or prevent cats from defecating in your garden? Then an electric fence will provide an effective and safe solution.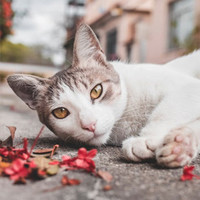 Effective Protection for your Animals, Garden & House
How to deter cats in your garden
Gardeners and cat don't typically go well together. Neither do cats and ponds. Or cats and allotments. In fact, anything that requires time, effort and investment outdoors can usually be undone in a matter of minutes by a cat.
If you're not careful. If you don't take precautions.
Cats are naturally territorial animals. They love to be outside exploring, and they don't know about or care about the work you might have put into your garden. They're just out to roam.
So controlling them – or deterring and discouraging them – can be very difficult.
Some people try hanging ornaments to scare them away. Others think a spray repellent will keep them at bay. A few people swear by certain types of plants and herbs that cats don't like the smell of.
But the most effective way to deter cats in your garden is with cat deterrent fencing.
What is cat deterrent fencing?
There are two primary types of cat deterrent fencing – electric and ultrasonic. Both can be used in home gardens, around allotments or to secure any area big or small.
Electric fencing for cats provides a physical, visible barrier to stop cats from entering a designated area. It's ideal for perimeters, around set places in the garden – like ponds of vegetable patches - or around your entire boundary line.


Ultrasonic cat deterrent fencing offers an invisible boundary for your property, scaring cats away with one simple device. It's ideal for stopping cats from entering flower beds, crossing lawns or exploring other areas of your garden you want to keep pristine.
Both types of cat deterrent fencing can be used to keep neighbourhood cats out of your garden, or ensure your own cats do not leave the safety of your property.
How does electric cat deterrent fencing work?
With electric fencing, a complete visible fence made from small wires is erected around an area – usually a pond or a vegetable patch. It's high enough to stop cats jumping over, so the only way they can access the area which the fence surrounds is by climbing it.
But this fence is electrified with a very small, super safe current. If a cat does try to climb it, they receive a tiny shock which discourages them from going any further. The current just flows over their skin, it doesn't go into their bodies, so it's very safe. They quickly learn to avoid that area.
The wired fence can be set up in any shape or size, and doesn't need to be a full circuit. It can be powered by a 12V battery or mains power, so it's ideal even for areas far from the house.
How does ultrasonic cat deterrent fencing work?
If you'd rather not have a physical fence, for example if you only want to cover a small corner of your garden or you want to stop cats going across your lawn, then ultrasonic cat deterrent fencing may be a better option for you.
You place a small sensor device in the desired area that you want to protect, which then emits a high-pitched ultrasonic sound whenever it detects movement nearby. The frequency range is set so that only cats can hear it – humans, birds and dogs don't notice a thing.
But cats hear this high-pitched noise whenever they come close, causing them mild discomfort. They soon learn to avoid this area.
Cat deterrent fencing is the most effective way to deter cats
Although there are a number of ways to deter cats in your garden, scaring them away or discouraging them from entering specific areas, cat deterrent fencing is by far the most effective.
Unlike other cat deterrent options, it won't fall over or wash away, and cats won't adapt or become immune to it.
With an electric fence, cats will receive a small, safe zap any and every time they touch it… and they won't touch it again after the first couple of times. It's also safe and effective for other garden wildlife too – deterring pesky birds from vegetable plots and otters or minks from ponds.
It's the only safe and effective way to protect the investment you've made into your garden.
And if you want to protect the looks of your luscious lawn or keep those prize roses in tip top shape, then an ultrasonic cat deterrent fence is great invisible barrier that will have cats keeping their distance while allowing other wildlife to thrive.
Which cat deterrent fence is best for you? Explore the options here.