Shop our range of Electric Fencing Conductors
Electric fencing conductors form the basic structure of an electric fence unit and are what make the physical barrier of electricity which prevents animals from going through the fence. There are various ma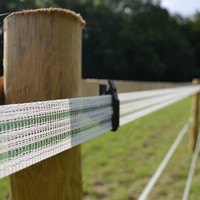 What to consider when choosing your electric fence conductor
Consider the type of animal you wish to contain (or keep out), the length of the fence line(s) and if the fence will be a permanent fixture or temporary. Whether it's electric fencing wire, rope, or tape, choose the electric fence conductors that best suits your needs.
Rope
Rope combines interwoven wire with non-conductive plastic threads which makes it lightweight and easy to assemble. This ensures high conductivity and flexibility. Take a look at our range of rope fencing.
Tape
Tape is often chosen where visibility is important, as it is easy for the animals to recognise from a distance. Browse our range of electric tape.
Wire
Wire is made from different types of metal such as copper, aluminium or stainless steel. It is best placed where a robust and extremely conductive fencing unit is required. Browse our full range of electric fence wire today.
Still in doubt on which electric fencing conductors you need? Contact us for expert help and advice.