Selecting the ideal electric fence for sheep depends on various factors. Three main options to consider are:
Mobile Fencing for Sheep
Permanent Sheep Fencing
Optimize Existing Non-Electric Sheep Fencing
Each option has its own advantages and is suited for specific situations. Let's explore these choices to find the perfect fit for your sheep management needs.
Mobile Fencing for Sheep
For efficient sheep management, mobile fencing solutions are essential, especially when sheep are moved between various pasture areas throughout the year. Nets present a versatile option as they can be easily set up and used anywhere. If you seek the best and fastest solution for your mobile sheep fencing needs, explore electric sheep fencing options that provide optimal guidance and come in different colours and sizes.
Electric Netting for Sheep: Classic Mobile Sheep Fence
Electric netting offers a practical choice for mobile sheep fencing. Widely used for this purpose, these nets are designed for easy movement and flexibility. Available in various lengths with both double and single fixing pins, electric netting provides adaptability to different sheep farming requirements. Additionally, these nets ensure optimal conduction of current, enhancing the efficiency of your electric fence system. Connect them effortlessly to enclose larger areas with ease. Ensure the safety and security of your sheep by using an energizer specifically designed for sheep fence nets, preventing potential breakouts. Alternatively, consider combining artificial stakes with Vidoflex electric fencing and reels for another effective option.
View all electric netting for sheep
View all electric fence energisers for sheep
SmartFence for Sheep: The Ultimate Mobile Fence
The SmartFence 2.0 is the ideal mobile or temporary fence solution for sheep. This all-in-one system includes posts, reels, and wires, making it the perfect replacement for standard net fences. Assembling and dismantling the SmartFence takes just five minutes, providing utmost convenience. You can easily carry and store it, especially when paired with the corresponding SmartFence accessories. Comprising four wires and 10 posts, the SmartFence stretches up to 100 meters in length, ensuring ample coverage. With adjustable post positioning and wire height, you can erect barriers in any required line. Enhance the enclosure size by connecting multiple SmartFences. Ensure the safety of your animals by using a suitable fence energizer, offering optimal protection for your valuable sheep.
View all electric fence energisers for sheep
Permanent sheep fencing
Permanent sheep fencing offers a long lifespan of around 25 years. While it may be tough to install initially, its high tensile wire ensures durability. Once set up, it requires minimal maintenance, making it a practical choice for protecting sheep and grazing areas effectively.
Highest Durability
A fence made of High Tensile steel wire is highly resilient and sturdy, making it perfect for enclosing sheep, cattle, and deer, and can last for 20 to 30 years without difficulty. When fencing sheep, the electric shock needs to be powerful enough to penetrate their thick wool coat and stay within the fence. Consequently, it is important to ensure that the lower wires in a High Tensile fence are positioned close to the ground. By incorporating a potent pasture fence, vegetation growth will be prevented, preventing the current from being transmitted through the grass.
Choose Insultimber as permanent fencing for sheep!
When choosing Insultimber you only need to insert a fixed post (length 1.50 m) every 40 meters for long straight sections and an intermediate post without a top of 1 meter every 10 meters in between. This will save you material and reduce the cost per running meter. We will be happy to recommend one of our trained and experienced fence builders.
What do you need for HIGH TENSILE fencing for sheep?
Match the numbers in the image below:
(1) Electric fence energiser for sheep
(2) Special steel wire 2,65 mm HT
(3) Grazing gate, adjustable with power supply
(4) Insultimer corner post 10 x 10 cm / 2,5 m
(5b)Insultimer slat 3,8 x 2,6 cm / 0,95 m or 1,10 m
(6) Tension insulator white HT/EquiFence/Cord
(7) Fastening spline pins, short
(10) Rotating tensioner
(11) Ground/lead cable 2.5 mm / 25 m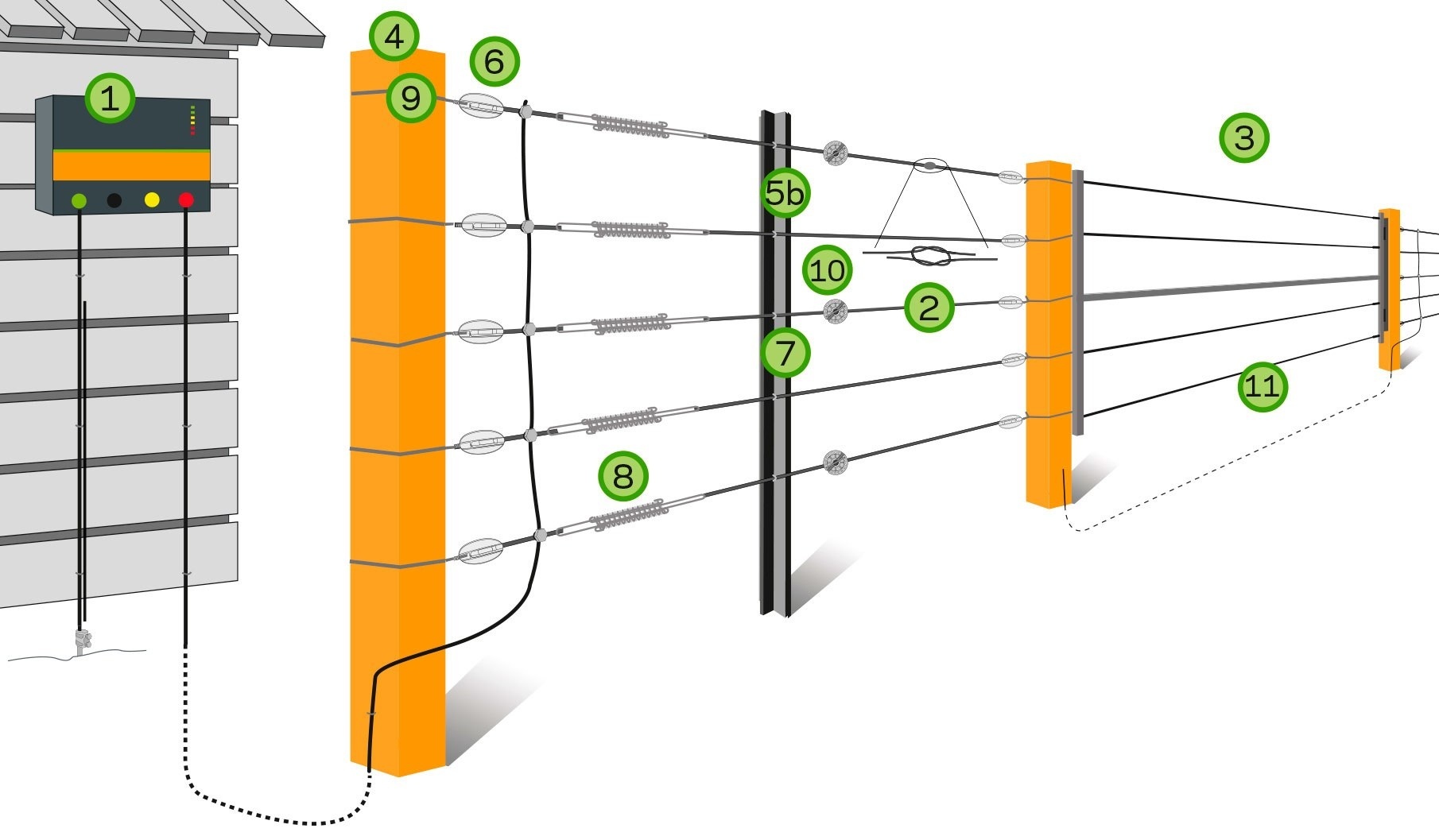 Optimize existing non-electric sheep fencing
If you have an existing non-electric fence for sheep and wish to electrify it, distance insulators are an ideal solution. Whether your fence is made of wood, mesh, or other materials, distance insulators offer a straightforward and effective way to enhance its functionality. These insulators enable you to electrify the existing fence, effectively containing your sheep while also providing protection or improvement to the barrier. Additionally, they can be used in combination with various electrified elements such as tape, cord, or plastic wire. Whether you have wooden fences, iron or concrete posts, or mesh fencing, distance insulators can be applied to electrify the setup successfully, ensuring efficient and reliable sheep management.
View Distance / offset insulators