Do you want to discouraging your cat from trying to escape the garden? Or would you like to protect your vegetable garden and rose beds, or prevent cats from defecating in your garden? Then an electric fence will provide an effective and safe solution.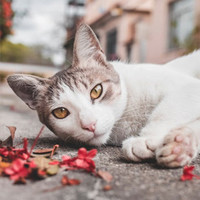 Electric fences are also ideal for discouraging cats from trying to escape the garden. Most of or fences have conventional, visible wires, which means that your pet can of course see the fence and will learn to respect and to stay away from it. And even if your cat is stubborn, or perhaps not the brightest spark, it won't be harmed by the fence.
You can make an electric fence with posts and wire or fit it onto the garden fence or wall. For a system on the garden fence you need insulators, as well as a good conductor and an energiser. The wire is led through the insulator (from A to B), and a second wire is lead back (from B to A) via the same insulator. The wires should not touch. As soon as the animal touches the garden fence with its paws, it will make contact with the earth wire. It then closes the circuit by touching the + wire with its head. This provokes a fright response, with the cat jumping back and not going into your garden.
Electric fences for cats are not dangerous. An electric fence uses one very short pulse voltage. This very short pulse causes a current which hardly goes through the body, and instead is conducted along an animal's skin. This provokes a fright response, but involves absolutely no harm to the animal.
Discover our range of electric fencing kits and deterrents for cats above. Contact us if you need any help or assistance.