Home Security Electric Fencing Systems
Home security electric fencing increases the protection of your property by acting as a significant deterrent to all but the most tenacious of intruders, both human and animal.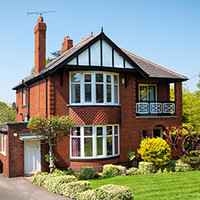 Our home electric fencing kits for home security are designed to be easy and simple to install, whilst being fairly unobtrusive when fitted. Electric fencing is perfectly legal in the UK, so long as it is on your property, meets all EU product standards and is clearly marked (warning signs at the ends of the fence and every 10m in between).
Electric fencing is:
- Ideal for homes, car lots, builder's yards & more
- An effective deterrent to intruders
- Quick and easy to install
- Cost effective
- Legal
- Safe
An electric fence for protecting property is usually fitted to the top of an existing wooden fence or garden wall, using specially designed, angled fence posts. There are generally 3 or more lines to the electric fence and, in our DIY kits, there are two 'live' wires and two 'earth' lines. Power to the electric fence is provided by a security fence 'energiser', which sends 4000-8000V down the wires at about 1-second intervals; each pulse lasts only a few millionths of a second!
The 'live' electric fence wires work on an 'open circuit' basis, i.e. they do not return to the energiser. The energiser is, however, connected to an 'earth spike', so when a person touches the live fence they complete the circuit from the fence, through their body to the earth, back to the energiser and receiving a shock in the process. Of course, this only works if they are standing on the ground at the time, so an electric fence for home security also includes at least one earth line, which is connected to the energiser. This means that, when a person touches a live wire and earth line at the same time, they receive a shock, even if their feet are no longer touching the ground.
When we designed our home security electric fencing products, we realised that supplying mains power in the garden can sometimes be expensive and problematic. The benefit of mains power is that there are no batteries to replace or recharge, but if that is not possible, all of our systems can be run off of a 12V battery. These batteries are similar to car batteries, but they are 'deep cycle' type, so they can be regularly discharged and recharged without being damaged, unlike car batteries. To make life even easier, we offer a 'solar power' option, which means that you should never have to recharge a battery again!