Electric Fencing for Otters & Mink
Electric fencing is a highly effective way of protecting expensive fish stocks from otters and mink. Read more about electric fencing for otters & mink and discover our kits below.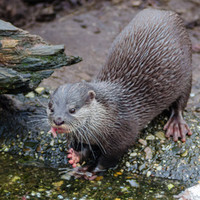 With wholesale prices of specimen carp up to £100 per lb (a 40lb carp could be as much as £4000), spending a few hundred pounds on the right fencing system is relatively little. 
Otter and mink are both voracious hunters and, due to their elongated bodies and abilities to climb and dig, they can be difficult to keep away from ponds, fishing lakes and breeding pools. The most effective fence combines a wire mesh barrier and electric fencing. Wire mesh should be laid horizontally and 25 cm along one edge should be bent upwards. The vertical part needs to be stapled to wooden posts, or attached to rigid metal / plastic posts, with the horizontal part extending outwards. Ideally, the horizontal mesh should be fixed down using tent pegs, in such a way that it is very difficult for the otter or mink to get underneath. Above the vertical mesh, we recommend two live electric fence lines spaced at no more than 10cm. When the fence is connected to the electric fence energiser, the wire mesh should be connected to the 'earth' connection.
In some cases, it is not possible to use wire mesh, for example if the fence is only temporary or space is limited. In these instances, we recommend four lines of electric fencing at nor more than 10 cm intervals.
An example of a similar fence can be seen here - Otter Fence Project