Mains Powered Electric Fence Standard Post & Rail Protector Kit - 200m
Mains Powered Electric Fence Standard Post & Rail Protector Kit - 200m
---
Hotline Mains Powered Electric Fence Standard Post & Rail Protector Kit - 200m.
---
UK's largest online supplier
Located in the UK
Expert help & advice: 0121 281 8163
Hotline Mains Powered Electric Fence Standard Post & Rail Protector Kit - 200m
Description
Here is a simple mains powered electric fence kit that will enable you to quickly install a 200m length of 'Top Rail' electric fencing for yourself - wherever you need it.
We are frequently asked about the electric fencing shown in the photograph of the grey pony in the paddock (See below).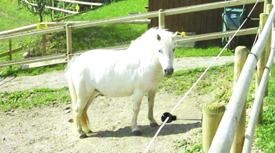 This particular kind of electric fencing solution has proven very popular and effective with many property owners and in particular, paddock owners who wish to protect the top rail of their wooden post and rail fence from being chewed by their horses or other animals.

This fence has also proven effective when used in gardens to stop the pet dog jumping over the existing fence.

The fence kit is easy to install and extend. Should you wish to extend beyond 200m, this is easily done through acquisition of additional electrified rope, stand off insulators and rope connectors as required. The HLC80 Energiser is suitable for a single line fence up to a maximum of 8km in length.

This electric fence kit comprises of:
1 x Hotline HLC80 Mains Energiser (47HLC80)
1 x ES2 Earth Spike (47ES2)
50m x HT/50/G Double Insulated Cable (47HT50G)
200m of P51G/2 Green & White Electrified Rope (47P51-2G)
6 x KS15 (2 x Packs of 3) Corner Screw-In Insulator (47KS15-3)
60 x P37SL/20 (3 x Packs of 20) Stand Off Insulators (47P37SL-20)
1 x C92 (Pack of 4) Rope Connectors (47C92-4)
2 x P40 Warning Signs (47P40)
1 x P70 5 'O' Lite Electric Fence Tester (47P70)
Recommended Optional Accessories
P59 Electro-Rope Gate Set
P74 Lightning Arrestor
C93 Rope Connectors
V10 Fault Finder
Please note: Mains powered energisers must be fitted under cover and the earth spike buried in the ground well away (10m) from other earth systems.

Optional Installation Tool:
Use the insulator chuck for quick and easy installation of the stand off insulators.
Need help? Contact our experts!
Phone: 0121 281 8163
Reviews