Electric Fencing Post & Rail Kit for Horses, Dogs, Gardens ect. - 200m
Electric Fencing Post & Rail Kit for Horses, Dogs, Gardens ect. - 200m
---
200m Battery Electric Fence - Post & Rail Protector Kit.
---
UK's largest online supplier
Shipped from warehouse in the UK
Expert help & advice: 0121 281 8163
Hotline Electric Fencing Post & Rail Kit for Horses, Dogs, Gardens ect. - 200m
Description
Here is a simple electric fence kit that will enable you to quickly install either a 200m length of 'Top Rail Protection' electric fencing, or two lines of 100m each arround your expensive post and rail paddock. Installation is an easy DIY job and the kit provides what you need to quickly and cost-effectively add the one or two lines of electrified rope - wherever you need it.
Perfect for stopping horses chewing the top rails of your paddock, leaning and rubbing against the fence posts and also for many uses other than paddocks. A quick and cost effective method of protecting the expensive top rails of your paddock, or indeed any other wooden fence.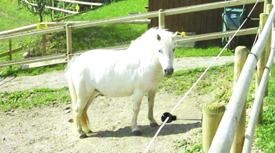 This electric fence kit was introduced after frequently being asked about the electric fencing shown in our photograph of the grey pony in the paddock (above) and this particular electric fencing solution has certainly proven very popular and effective with many property owners, in particular paddock owners wishing to protect the top rail and make chewing, or leaning against the top rail awkward and a lot less attractive to the horse. But, the kit has also been addopted by many for use in the garden and has proven effective at detering the pet dog from jumping over the existing garden fence. Many dog owners prefer this method over the 'electric fence' systems that utilise a dog collar to shock the pet if it passes an invisible infra red barrier, because they feel the dog is being 'punished' for no apparent reason as it can't see a source or reason for the pain; whereas, adding the electric rope to the existing fencing using offset insulators makes the fence more intimidating to the dog and it can see what shocks is and more easily learns to stay away.
The fence kit is easy to install and is available either with or without our duel leisure battery and charger set, which means you should never be without a charged battery for your system.
Should you wish to extend the rope beyond 200m, this is easily done through acquisition of additional kit items, simply follow the links below to the individual products and select as required, but don't forget to add important items like connectors, to join the rope to more rope etc.
This electric fence kit comprises of:
1 x Hotline P450S Hobby Energiser (47HLB50) - A high quality, medium power energiser with good battery performance.
1 x 1m Earth Spike  (47ES2)- Push this all the way into the ground and connect to the earth terminal of the energiser.
12 x KS15 (4 x Packs of 3) Corner Screw-In Insulator (47KS15-3) - To provide anchors for the and end of the fence, plus for any corners.
60 x P37SL/20 (3 x Packs of 20) Stand Off Insulators (47P37SL-20) - Holds the rope away from the existing fencing.
200m of P51G/2 Green & White Electrified Rope (47P51-2G) - Stronger and longer lasting than tape, but still highly visible to your horse and pony.
2 x P40 Warning Signs (47P40) - Required by law if the fence is accessible to the public.
2 x C92 (Pack of 4) Rope Connectors (47C92-4) - Use wherever you need to tie-off the fence line, unlike tying knots they don't damage the conductors.
1 x P20b -Audible Electric Fence Tester (47P20B) - A simple tester to confirm the fence is live, just hold it near and listen for the beep.
1 x P36 Digital Fence Tester 47P36) - Gives you a voltage reading and enables you to more accurately test the fence performance.
1 x C75 - Tape Clamp (47C73-2) - To link two lines together (if you choose to set them up), although designed for tape, they're perfectly acceptable for rope.
1 x Eco Chuck (47CS1E) - Holds a Stand Off Insulator and lets you use a battery drill to screw it into the post.

Optional Item
Electric Fence Battery Set Numax (12V / 64Ah) (47F1C1)- Unique electric fence battery and charger set from Numax is based on the 'fit one charge one' solution. Specifically designed for electric fencing systems
Need help? Contact our experts!
Phone: 0121 281 8163
Reviews